The RMB's Progress (In Internationalization)
The rapid ascent in CNY reserves was in 2018, with some resumption in 2020. From 2016 to 2019, Renminbi turnover rose from 4% to 4.3% (out of 200%).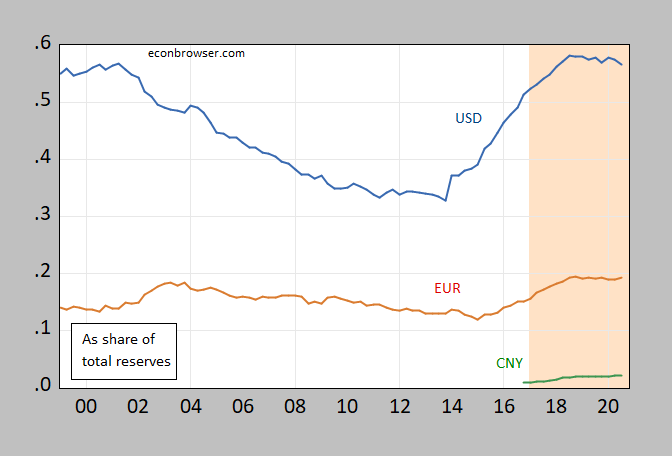 Figure 1: Foreign exchange reserves allocated in USD as a share of total (allocated, unallocated) reserves (blue), EUR (red), CNY (green). Pink shading is Trump's administration. Source: IMF COFER, various issues, author's calculations.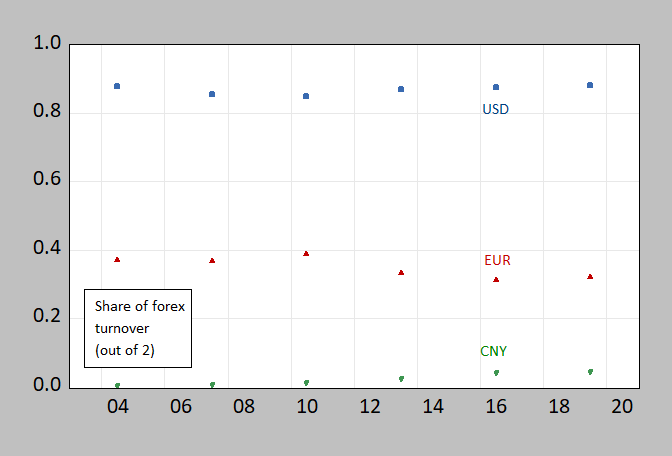 Figure 2: Foreign exchange turnover share in April in USD (blue square), in EUR (red triangle), in CNY (green inverted triangle). Shares sum to 2. Source: BIS Triennial Survey, 2019.
The IMF provides additional information on the use of the Renminbi in "Reserve Currencies in an Evolving International Monetary System".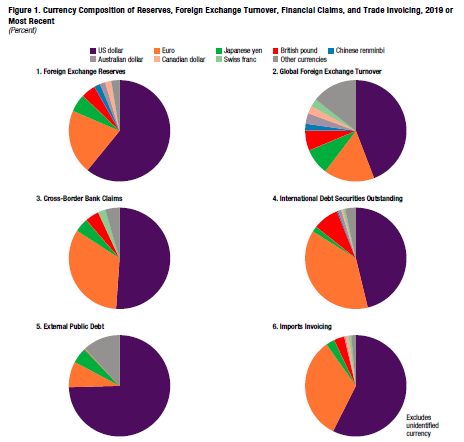 Source: IMF (2020).
National policies have played a role in supporting the internationalization of currencies for economic as well as political benefits, including international prestige and the enhanced ability to project military power abroad. More recently, China has been actively promoting a wider use of the renminbi for trade and investment, which was supported by the addition of the renminbi to the SDR basket in 2016.8 Between 2010 and 2014, 37 central banks have reportedly added the renminbi to their reserve portfolios (Liao and McDow-ell 2016), with the share of renminbi in global reserves reaching 2 percent in 2019. The next stage in the internationalization of the renminbi could depend, to some extent, on the landscape of China's economic and political ties that emerge after the COVID-19 crisis.
Still, I think the Chinese remain conflicted about whether to take the tough steps necessary for RMB internationalization. From my discussion of Eswar Prasad's 2015 paper:
The key question is then, what price in terms of policy autonomy are Chinese policymakers willing to pay in order to achieve renminbi internationalization? This question has been thrown in sharp relief by the faster than anticipated deceleration in growth. Will they be willing to give up the lever of exchange rate management in order to retain monetary policy independence? Will they relinquish control over the financial system (and ability to stem financial outflows) that would occur with capital account convertibility? The heavy-handed nature of intervention in the stock market over the summer of 2015 gives one pause for thought. We may see further backsliding on exchange rate flexibility (and cap-ital account liberalization) if foreign exchange reserves continue to decline…