E

The Most Important Chart On The Planet
This past week in the precious metals sector we have seen some volatility that felt just the opposite of what we saw in the bear market years, when we would get a sharp rally that would last for several days. In bear markets, they shakeout the shorts and call it a short covering rally. It's a bit too early to know for sure but Thursday's big reversal day felt like a shakeout day, which shook out many PM bulls or at the very least made them fell very uncomfortable holding on to their positions.
These types of shakeout moves are very healthy for keeping the impulse move going. Instead of correcting in time, the correction comes in price. The hallmark of these kinds of shakeout moves is that they should be over in one to five days with the original trend exerting itself again very quickly. So this week is going to be very interesting to see if the PM complex can take out the previous highs and hold.
Today I would like to update some charts we've been following which suggest that it's still prudent to hang on to your PM positions for dear life as Sir Spock and Sir Plunger have been stating. I've written about inflection points in the past and the US dollar is at a critical inflection point right now. For me personally, I'm willing to hang on and see what happens with the US dollar, as the risk to reward ratio is pretty high for the precious metals sector if the US dollar breaks down from here. These potential setups don't come around very often but if you can spot one early enough they can be very rewarding if you can hold your ground.
The first chart I would like to show you is a short term daily chart for the US dollar that we looked at last week, which showed a possible parabolic downtrend channel building out. The key word being parabolic. During all the volatility on Thursday the US dollar spiked above the top of the parabolic channel, which at the time looked like it may be failing. The US dollar quickly reversed back down and by the end of the day it closed back inside the channel, which has negated the breakout so far.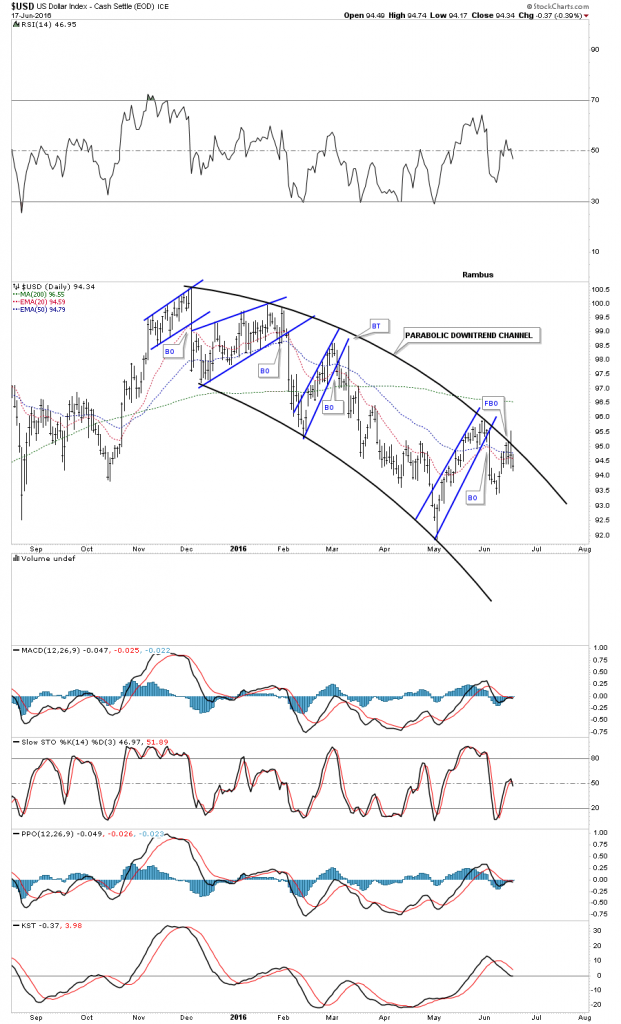 Since April of this year the US dollar has been bouncing around wildly looking for direction but hasn't found it yet. Below is another daily chart for the US dollar which may be showing us what all the chopping around is creating. A Diamond will start out as an expanding triangle of some kind which suggests the investors are very confused. The price action gyrates making a higher high and a lower low going nowhere. Note the rally out of reversal point #5 all the way up to reversal point #6 which shows you the expanding price action.