The Bounce From Oversold Survives An Early Test
AT40 = 22.0% of stocks are trading above their respective 40-day moving averages (DMAs) – ends an 11-day oversold period that followed a 4-day oversold period
AT200 = 31.6% of stocks are trading above their respective 200DMAs
VIX = 19.5
Short-term Trading Call: bullish
Commentary
If you are a long-term passive index investor, you can return to your regularly scheduled programming. Just make sure to check back in if the S&P 500 (SPY) manages to break down below the low of this latest selling cycle (around 2600). For those interested in short-term trades, the drama continues apace.
Friday was a day of spills and thrills as the headlines from another strong jobs report faded fast in the wake of the Trump administration broadcast conflicting messages about the prospects for an imminent trade deal with China.
I was not aware of the headlines until after the close of trading; I am thankful I was not paying attention to that source of confusion and distraction. I was focused on executing my trading strategy for a market that I assume is moving away from oversold conditions and facing down its next challenges at 200-day moving averages (DMAs).
AT40 (T2108), the percentage of stocks trading above their respective 40DMAs, closed at 22.0%, a slight gain over the previous day. AT200 (T2107), the percentage of stocks trading above their respective 200DMAs, closed at 31.6%, essentially flat with the previous day. The S&P 500 (SPY) gapped up but sold off all the way below the intraday lows of the previous two trading days before bouncing back. Although the index netted a 0.6% loss, I call the day overall a small victory.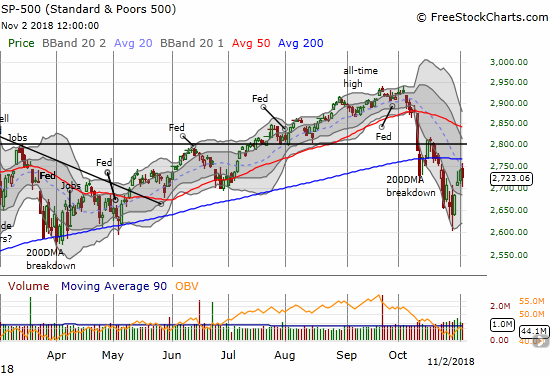 The S&P 500 (SPY) almost challenged its now declining 200DMA resistance. The 0.6% loss was not enough to drop the stock market back into oversold territory.
The NASDAQ and the Invesco QQQ Trust (QQQ) behaved like the S&P 500. Most importantly, QQQ directly challenged its 200DMA resistance and got rejected. This is the second day in a row with QQQ tussling with this critical trendline.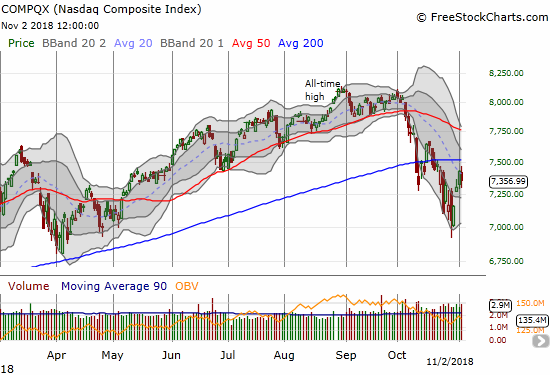 The NASDAQ lost 1.0% as its downtrending 20DMA held as resistance.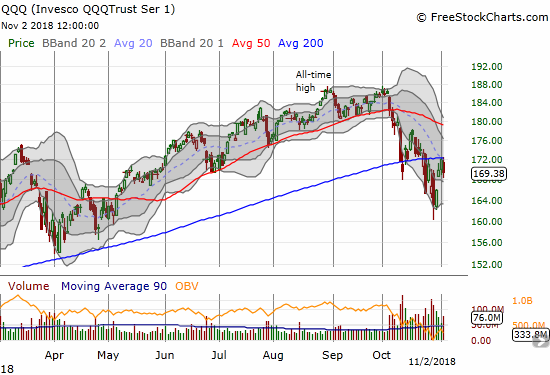 The Invesco QQQ Trust (QQQ) lost 1.6% and also lost its battle with 200DMA resistance.
The volatility index, the VIX, delivered another small victory. The VIX made a fractional gain after gapping down and then soaring past the previous day's intraday high. It closed at 19.5 and remained below the 20 "elevated" level. As I wrote earlier, I expect volatility to implode after the election with no expectation for the outcomes. My put options on ProShares Ultra VIX Short-Term Futures (UVXY) teased me by going into the green soon after the open only to close the day back into red territory.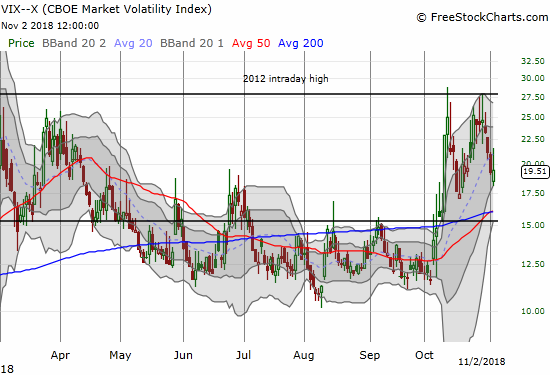 The volatility index, the VIX, gained 0.9% but stayed below the 20 level which is the threshold to "elevated" levels.
Disclosure: I am long UVXY puts, long ITB calls and calendar call spread, long BHP calls, long RIO puts, long GS puts, long SBUX, long CAT puts, other positions mentioned above.
Follow Dr. ...
more