Stock Market Outlook: Dow Eyes China Tension & Dollar-Yuan
DOW JONES PRICE OUTLOOK: STOCK MARKET AT RISK AMID ESCALATING CHINA TENSION & ACCELERATING NEW VIRUS CASES
Equities have exploded higher over the last three months. The Dow Jones Industrial Average, for instance, staged a remarkable 18% gain during the second quarter of 2020. Other US equity indices, like the S&P 500 and Nasdaq, led the Dow with gains even more impressive. The recent stock market upside largely follows unparalleled amounts of liquidity and stimulus provided by central banks and governments around the world.
As global officials pump up stocks and investor confidence, however, the risk of equities becoming increasingly detached from their economic fundamentals seems to have grown exponentially. Complacency has ballooned alongside the Federal Reserve balance sheet, which has widely contributed to unwavering risk appetite, and led some market participants to incorrectly believe the troubling and misleading mantra that "stocks only got up." To be clear, stocks can, and eventually do, go down.
DJIA – DOW JONES INDUSTRIAL AVERAGE & SPOT USD/CNH PRICE CHART: DAILY TIME FRAME (MAR 2019 TO JUN 2020)
(Click on image to enlarge)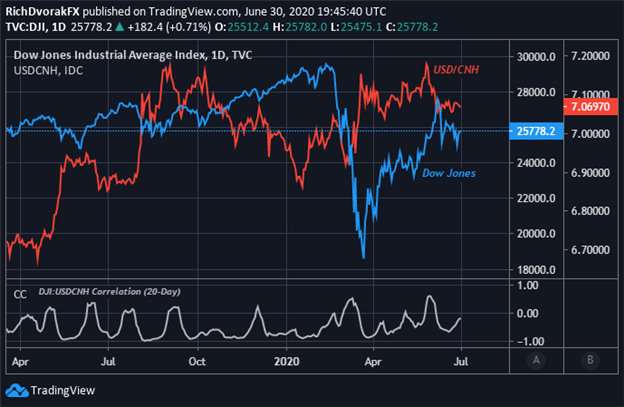 Chart created by @RichDvorakFX with TradingView
That said, rekindled US-China trade uncertainty, in addition to a plethora of other material downside risks, threaten to undermine the latest rally set forth by the Dow Jones and other stock market benchmarks. Seeing that the United States and China are the two largest economies in the world, bilateral trade and economic cooperation between Washington and Beijing remains vital to global GDP growth.
USD/CNH PRICE CHART: DAILY TIME FRAME (30 MAR TO 30 JUN 2020)
(Click on image to enlarge)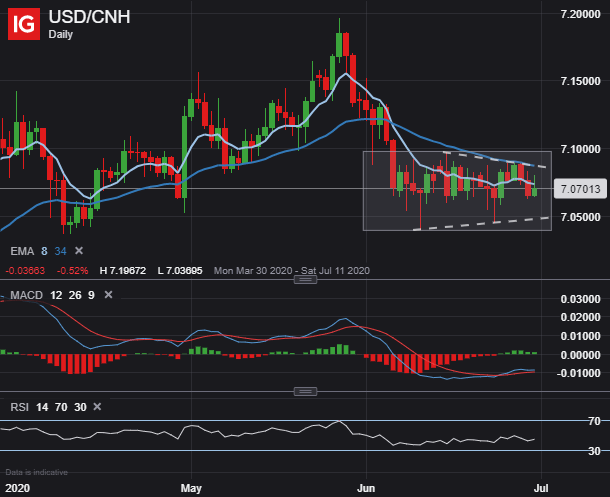 Also, escalating US-China tension has potential to spoil the phase one trade deal signed by President Trump and Vice Premier Liu He earlier this year. Over the several weeks, relations have deteriorated notably on the back of the freshly-signed Hong Kong national security law. In response, the US just added Chinese technology giants Huawei and ZTE to its list of national security threats, which likely cues up subsequent retaliation from Beijing.