NFP Preview: Five Reasons Why Hiring Is Set To Skyrocket, Dollar May Follow
Now hiring – while it may take time to get some 9.5 million Americans back to work, many companies are looking for new workers. For currency traders, the question is how much of that is priced into the dollar? Perhaps not enough.
Here are five reasons why it could be even higher, pushing the dollar up.
1) Last month's beat
Are economists up to speed March's Nonfarm Payrolls report is set to show an increase of 630,000 jobs, the best read since October and after beating estimates in February with 379,000, on top of upward revisions.
(Click on image to enlarge)

Source: FXStreet
After three months of misses, economists may have lowered their estimates, and could be underestimating the pace of the recovery.
2) Stimulus: new and old
The $600 dollar stimulus checks approved late last year pushed personal income higher in January and continued propagating through the economy during February and March. In the middle of last month, Congress approved a new covid relief package, this time including payments of $1,400.
Even if the impact of the new money will only be felt, later on, the drive toward pushing a large new fiscal plan probably raised confidence and encouraged hiring.
3) Vaccine ramping up
The goal of offering immunization to every American by May 1 seems feasible as more and more states have already achieved that milestone. At the current pace, doses will reach the arms of half of the US by May 9.
In Israel, cases began falling sharply around the time they reached 50% of the population. With 1.75 million people getting their first shot in America every day, optimism is another source of hiring.
(Click on image to enlarge)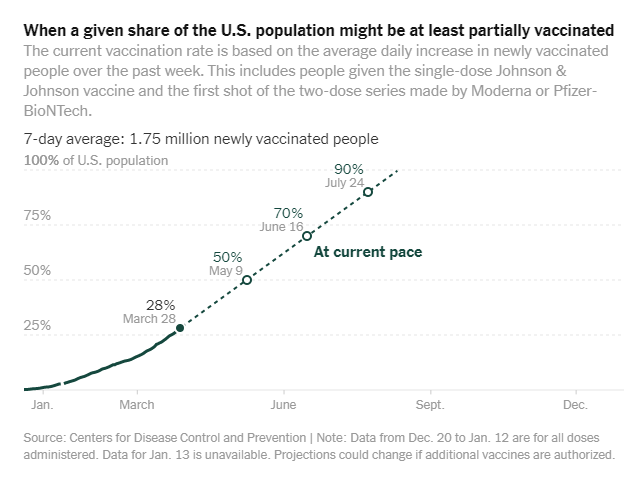 Source: New York Times
4) Rapid reopening
Texas Governor Greg Abbot canceled all restrictions and was the first to burst out the door – as if it were a saloon in the wild west. While some states are suffering an increase in cases, the quick return to normal has also contributed to additional jobs being created – at least in the services sector.
Disclaimer: Foreign exchange (Forex) trading carries a high level of risk and may not be suitable for all investors. The risk grows as the leverage is higher. Investment objectives, risk ...
more