Mexican Peso Forecast: Coiling, Awaiting Next Downside Move - Levels For USD/MXN Rate
Mexican Peso Yet to Wake Up in the New Year
It's just the second trading day of 2021, but the Mexican Peso appears to be on an extended holiday. Even as the rest of the FX market appears to be waking up, including its North American counterpart, the Canadian Dollar, the Mexican Peso continues to consolidate in an ever-tightening trading range versus the US Dollar, which was carved out in the final two weeks of December. While the price action may not be intriguing, traders may think of USD/MXN rates as a coiling spring storing potential energy: a breakout will be the realization of kinetic energy.
Mexican Peso Forex Economic Calendar - Rest of Week
USD/MXN rates may not stay quiet for long, however. Like nearly all of the FX market, the next move in USD/MXN could be driven by the outcome of the US Georgia Senate Runoff Elections. Like in the immediate wake of the US presidential election, more control in Washington, D.C. to the Democrats should help foster a weaker environment for USD/MXN. On the other hand, if Republicans retain control of the Senate, the recent coiling price action in USD/MXN rates may find resolution higher in the near-term.
Otherwise, the upcoming December Mexican inflation (CPI) report will be released tomorrow. According to a Bloomberg News survey, a slight moderation in price pressures is anticipated with the headline inflation rate due in at 3.15% from 3.33% in November. Recent changes in Banxico's leadership suggest that the central bank's hawkish hue may begin to fade; a rate hike cycle is unlikely any time soon.
USD/MXN Rate Technical Analysis: Daily Chart (January 2020 to January 2021) (Chart 1)
(Click on image to enlarge)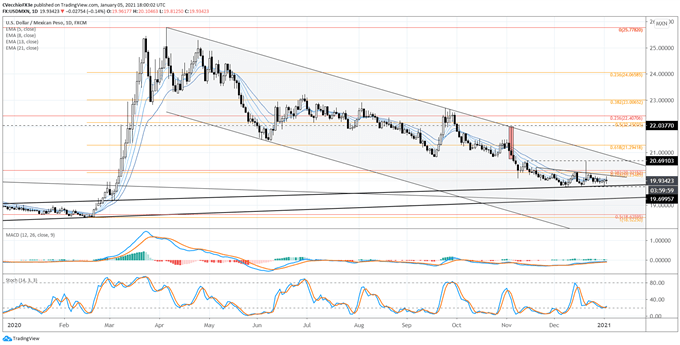 USD/MXN rates have continued through their parallel downtrend in recent weeks, which goes back to the coronavirus pandemic high set in April. The most recent test of either channel support or resistance came in November on the day of the US election, but since that November resistance retest, the pair has been trading in the middle to upper part of the range. December produced little progress either way, and the consolidation seen in the final two weeks of December (arguably going back to mid-November) remains in place.