FX Week Ahead: US Inflation; BOC & ECB Rate Decisions; UK GDP; Canada Jobs
Rising bond yields may be changing the equation for the BOC, but USD/CAD rates may be beyond the BOC's influence, as Governor Macklem conceded in January, when "in a situation where our Canada-U.S. exchange rate is moving largely because of made-in-U.S. developments as opposed to made-in-Canada developments."
BANK OF CANADA INTEREST RATE EXPECTATIONS (MARCH 5, 2021) (TABLE 1)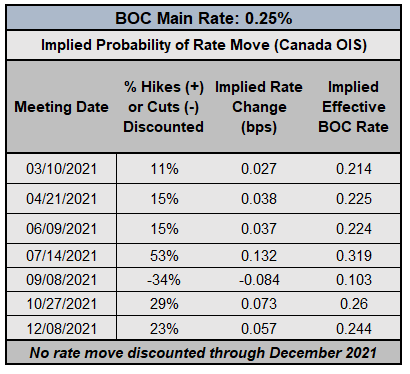 Interest rate expectations have started to move around more materially, but that's largely due to the volatility seen in rates markets generally. Looking through the noise for the signal, it's worth noting that the trend has only shifted marginally over the past two weeks: in late-February, there was a 16% chance of a 25-bps rate cut by the BOC by December 2021. Now, Canada overnight index swaps (OIS) are pricing in a 23% chance of a 25-bps rate hike through the end of the year.
03/11 THURSDAY |12:45 GMT | EUR EUROPEAN CENTRAL BANK RATE DECISION
In recent weeks, the ECB acknowledged that "if favorable financing conditions can be maintained with asset purchase flows that do not exhaust the envelope over the net purchase horizon of the PEPP, the envelope need not be used in full." A few weeks later after the global bond yield spike, it seems that the ECB may rethink their plans to provide less stimulus as previously anticipated.
For now, however, like the BOE and the Federal Reserve, there has been a clear drumbeat of 'higher yields is a positive development!' Or, in ECB Governing Council member Klaas Knot's exact words, "what the market is actually doing is pricing that optimism" about a recovery in the second half of 2021.
EUROPEAN CENTRAL BANK INTEREST RATE EXPECTATIONS (MARCH 4, 2021) (TABLE 2)
According to Eurozone overnight index swaps, the jump in global bond yields has spilled over to ECB interest rate expectations. In mid-January, when we last looked at ECB interest rate expectations, there was a 54% chance of a 10-bps rate cut by December 2021; that probability has dropped to 17%. This is a deep retracement from where we were at the end of 2020, rates markets were pricing in a 10-bps rate cut in July 2021. It very much seems like the prospect of further ECB stimulus can't be ruled out if yields keep spiking (as the ECB needs to do the dance of chasing inflation higher), but those stimulus efforts may not be coming vis-à-vis the interest rate channel (e.g. increasing the net purchase horizon of the PEPP).