Euro Forecast: ECB Does Little, Euro Facing Turning Risk Trends - Setups In EUR/GBP, EUR/JPY, EUR/USD
EURO'S STRONG APRIL PETERING
It's been well-documented that April has been the best month of the year for the Euro, and 2021 thus far has fit historically tendencies neatly. But the gains seen in EUR/USD this year have outpaced both the 5- and 10-year seasonal averages, which is a simple heuristic to suggest that markets may have run 'too far too fast.' Price action around key events this week suggests that the Euro's bull run may be indeed facing some short-term obstacles.
The April European Central Bank rate decision yielded little by any commentary that would suggest the central bank supports a strengthening currency, nor were there significant efforts to verbally jawbone the currency lower. This leaves the currency at the whims of broader risk trends, which are eroding as evidenced by declines in global equity markets and global bond yields.
Now, EUR/JPY rates are pulling back from range resistance while EUR/USD rates are dropping from a zone that has proved itself as both support and resistance since last summer. EUR/GBP rates may offer the best choice for Euro bulls in the near term.
ECB RATE DECISION RECAP
While ECB President Christine Lagarde offered little commentary that proved either market-moving or intellectually stimulating – no offense, it was a dull meeting! – it does appear that the market feels that there were enough efforts made to signal, at the margins, that the ECB remains open to more easing. In a world where the conversation around central banks is defined by stimulus reduction (e.g. tapering QE, rate hike timing), rates markets pricing in higher odds for a rate cut by year-end is noteworthy.
EUROPEAN CENTRAL BANK INTEREST RATE EXPECTATIONS (APRIL 22, 2021) (TABLE 1)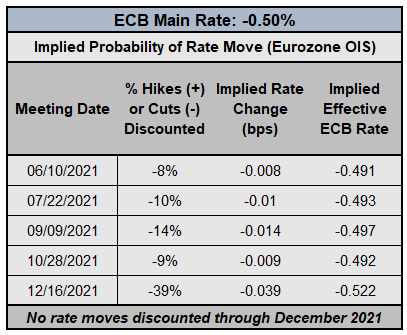 According to Eurozone overnight index swaps, the reaction to the April ECB meeting has been to boost year-end rate cut expectations materially. Earlier this week, there was a meager 15% chance of a 10-bps rate cut by December 2021. After today's rate decision, markets are now pricing in a 39% chance. This is a new divergence relative to other central banks that could ultimately prove to be an albatross around the Euro's proverbial neck heading into May.