Dow, S&P 500 Hasten Rally As The USD Snaps - Is The Low In Place?
DOW JONES INDUSTRIAL AVERAGE TWO-HOUR PRICE CHART
(Click on image to enlarge)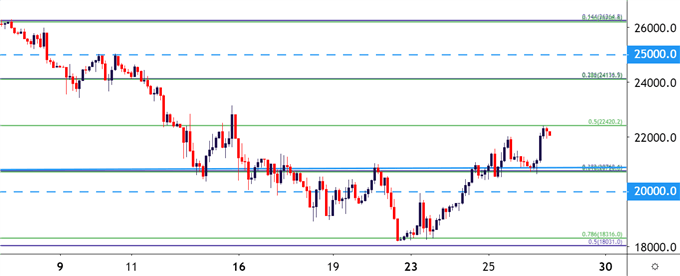 Chart prepared by James Stanley; Dow Jones on Tradingview
S&P 500 JUMPS AS MUCH AS 18% FROM THE LOWS
It's been a big week in the S&P 500 with prices up more than 18% from this week's lows; which is, in and of itself, an astounding amount. But – this still isn't even 38.2% of that prior sell-off, meaning there may be more room left to run, especially if the risk-on trade takes over again after the arsenal of stimulus that's been launched.
A similar bullish short-term structure has shown in the S&P 500, with a bit of governance produced by the same 2016-2020 major move. The 76.4% retracement helped to mark the low, the 61.8% retracement came in as support yesterday; and the 50% marker sits just ahead as the next potential spot of resistance, showing around the 2600 level.
S&P 500 FOUR-HOUR PRICE CHART
(Click on image to enlarge)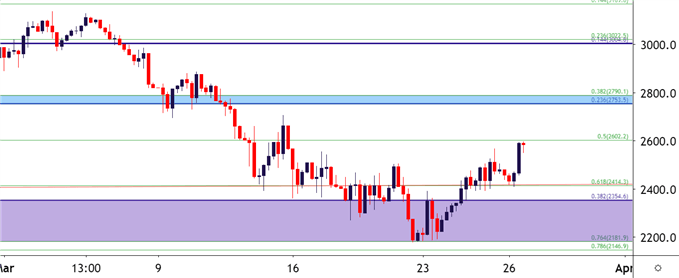 Chart prepared by James Stanley; SPX500 on Tradingview
US DOLLAR SNAPS BACK AS FED, TREASURY ADDRESS RISK AVERSION HEAD-ON
In a related move, the US Dollar has put in a large pullback, going along with the revivial of strength in US equities. In a move likely related to brute-force risk aversion in mid-March, the Greenback gained as much as 8.8%, non-levered, as investors rushed for the safety of the USD.
As looked at yesterday, a mild pullback had shown in the early-portion of this week. That pullback turned deeper with aggression today as both Jerome Powell and Steven Mnuchin shared some supportive commentary earlier this morning. Powell said that the Fed's funding is limited by what the Treasury would allow and, the Treasury, run by Steven Mnuchin, have shown no signs of yet letting up in the effort of stemming this sell-off head-on.
This was ample motive for a deeper reversal and the US Dollar has been spiraling lower ever since. For the past four hours, as of this writing, the US Dollar has begun to dig-in at a key longer-term support level. The price of 99.34 is the 14.4% Fibonacci retracement of the 2011-2017 major move.