Dollar Index: Forecasting The Rally & Buying The Dips At The Blue Box
The US Dollar Index (DXY) is another instrument that has been providing us with trading opportunities lately. The Dollar Index has been showing incomplete sequences in the cycle from the June low. Recently, it made a clear 3-wave pullback and found buyers at the blue box, as we expected.
In this technical text, we're going to take a quick look at the charts of the Dollar Index published in members area of the website, and explain the Elliott Wave structure and trading strategies we utilized.
(DXY) Elliott Wave One-Hour Chart for Nov. 18, 2021
The current view suggests that the DXY is has been performing a correction (4-red), labeled as ((a))((b))((c)). The pullback has been showing lower low sequences and it looks incomplete at the moment. We expect to see another leg down toward the range of 95.53-95.24 (buyers area).
Buyers should ideally appear at the blue box for a 3-wave bounce at the least. Once the bounce reaches 50 Fibs against the ((b)) black connector, we will make a long position with a risk-free approach (put SL at BE). Invalidation for the trade would be a break below 1.618 fibs extension: 95.24.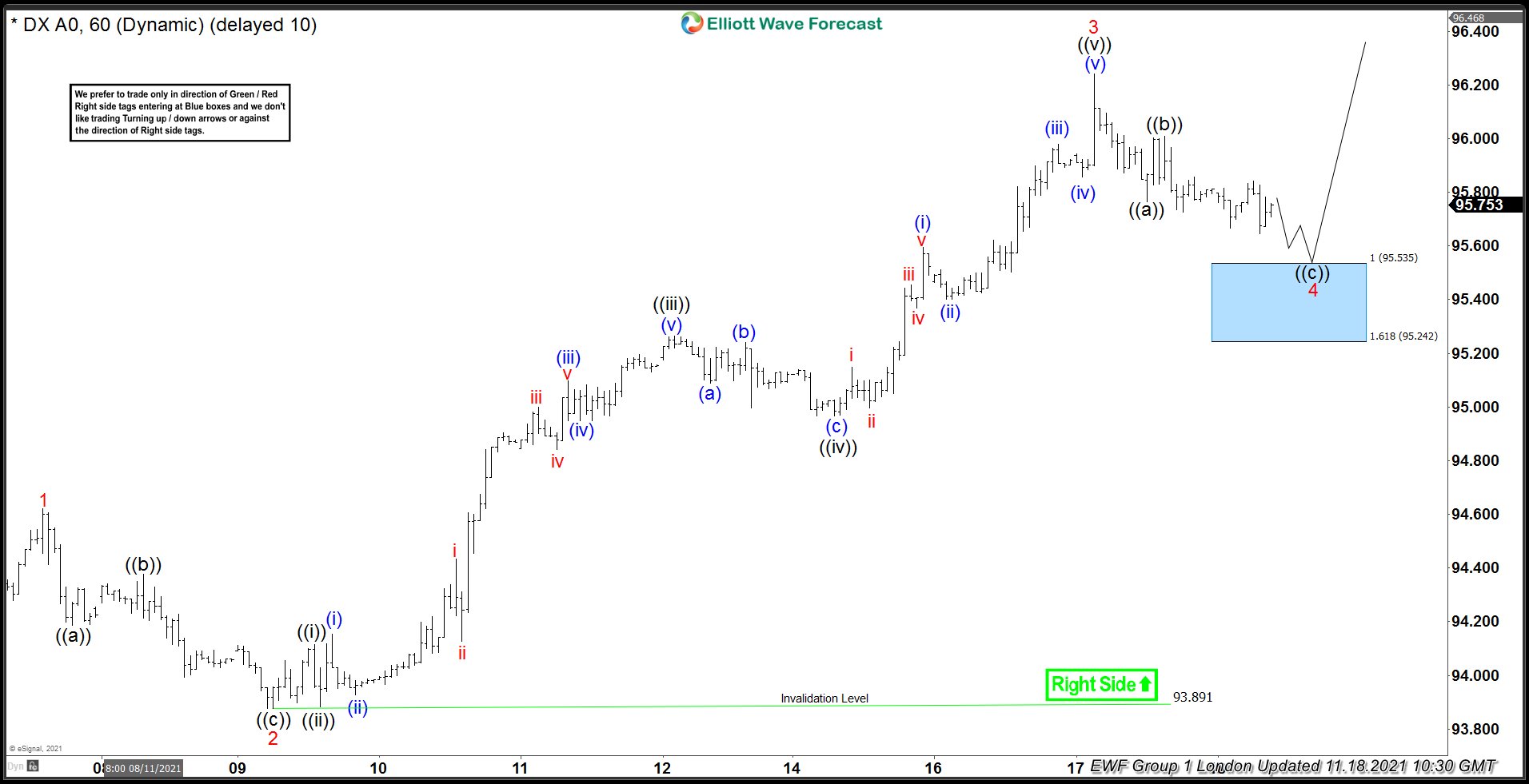 (DXY) Elliott Wave One-Hour Chart for Nov. 23, 2021
Eventually the Dollar Index gave us leg down toward the blue box, as expected. Buyers appeared at the marked zone, and we saw a very good reaction from there. The rally from the blue box made a break toward new highs, making the Dollar Index bullish against the 95.51 low in the first degree.
As a result, members who took long positions may be enjoying profits in risk-free positions (stop loss is put at the entry point). We believe another push up can be seen toward the 96.69+ area to complete short-term cycle from the 95.51 low, as the 5-wave pattern looks ready to rally before the larger (4) blue pullback takes place.
Keep in mind that the market is dynamic and the presented view could have changed in the meantime.
Disclaimer: Futures, options, and over the counter foreign exchange products may involve substantial risk and may not be suitable for all investors. Leverage can work against you as well as for ...
more