Central Bank Watch: Fed Speeches, Interest Rate Expectations Update - Thursday, Aug. 12
August 11 – Barkin (Richmond president) hinted that a taper is on the horizon, saying "We are closing in ... I don't know exactly when that will be. When we do close in on it I am very supportive of tapering and moving back toward a normal environment as quickly as the economy allows us."
Bostic suggested that the Fed's commitment to maximum employment meant that rates wouldn't rise "too quickly."
George (Kansas City president) offered a hawkish tone, saying "Now, with the recovery underway, a transition from extraordinary monetary policy accommodation to more neutral settings must follow."
Daly (San Francisco president) likewise offered a hawkish set of comments, indicating that it may be time to scale back the ultra-accommodative policy stance of the Fed "by the end of the year."
FEDERAL RESERVE INTEREST RATE EXPECTATIONS: FED FUNDS FUTURES (AUGUST 12, 2021) (TABLE 1)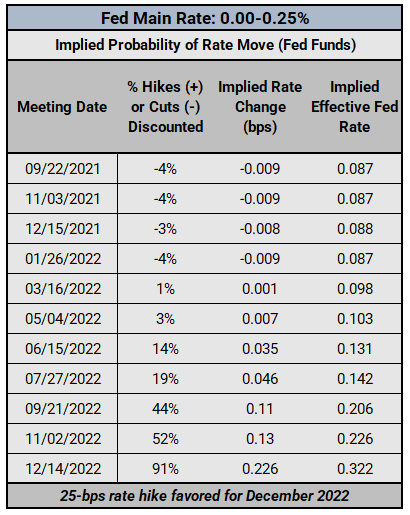 Ahead of the July FOMC meeting, December 2022 was the favored month for the first-rate move, clocking in with a 68% chance. However, after the July US nonfarm payrolls report and the July US inflation rate report (CPI), as well as the litany of comments by Fed policymakers, December 2022 now sees a 91% chance of a 25-bps rate hike.
We can also measure whether a rate hike is being priced in using Eurodollar contracts by examining the difference in borrowing costs for commercial banks over a specific time horizon in the future. Chart 1 below showcases the difference in borrowing costs – the spread – for the August 2021 and December 2023 contracts, in order to gauge where interest rates are headed in the interim period between August 2021 and December 2023.
EURODOLLAR FUTURES CONTRACT SPREAD (AUGUST 2021-DECEMBER 2023): DAILY RATE CHART (FEBRUARY TO AUGUST 2021) (CHART 1)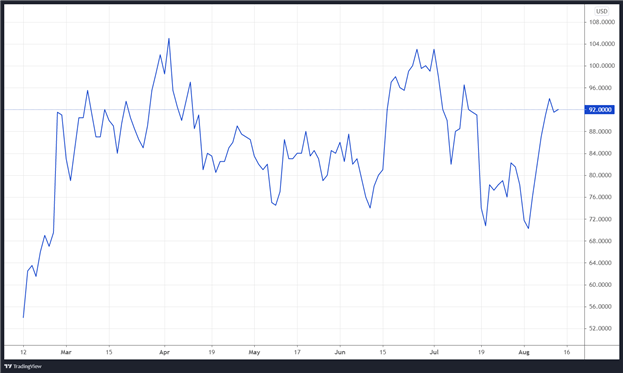 Based on the Eurodollar contract spreads, there 92-bps worth of rate hikes – collectively, three 25-bps rate hikes, plus a 68% chance of a fourth hike – by December 2023. Over the past week, we've seen the number of basis-points priced-in increase from a low of 62-bps; in effect, an additional full rate hike has been discounted through the end of 2023.