Central Bank Watch: BOC, RBA, & RBNZ Interest Rate Expectations Update
Yield Spike Attracts Central Bank Attention
In this edition of Central Bank Watch, we're examining the rates markets around the Bank of Canada, Reserve Bank of Australia, and Reserve Bank of New Zealand. All three central banks have met at least once this year, but only one – the RBA – has convened since the spike in global bond yields last week. The BOC will meet next week, and the RBNZ will be back in April.
But the fact remains that all three central banks are contending with the fact that rising global growth expectations and an aggressively dovish Federal Reserve are pushing investors into higher-yielding assets. The BOC, RBA, and RBNZ will likely have to step up measures to prevent their currencies from further runaway appreciation – which might prove difficult, if not impossible.
Bank of Canada on Hold, but Seat Getting Hot
The BOC meets for the second time this year next week, and in the interim period, the Canadian Dollar has been mostly rangebound. At the January meeting, BOC Governor Tiff Macklem noted that "we've seen this broad-based US dollar deprecation that doesn't reflect some positive development in Canada that the exchange rate is absorbing…the exchange rate is starting to create a material headwind for the Canadian economy."
Rising bond yields may be changing the equation for the BOC, but USD/CAD rates may be beyond the BOC's influence, as Governor Macklem conceded in January, when "in a situation where our Canada-U.S. exchange rate is moving largely because of made-in-U.S. developments as opposed to made-in-Canada developments."
Bank of Canada Interest Rate Expectations (MARCH 2, 2021) (Table 1)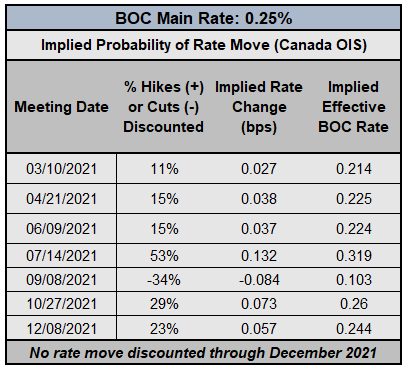 Interest rate expectations have started to move around more materially, but that's largely due to the volatility seen in rates markets generally. Looking through the noise for the signal, it's worth noting that the trend has only shifted marginally over the past two weeks: in late-February, there was a 16% chance of a 25-bps rate cut by the BOC by December 2021. Now, Canada overnight index swaps (OIS) are pricing in a 23% chance of a 25-bps rate hike through the end of the year.