Above The 40 – No Time For Comfort As Brakes Screech On The Oversold Bounce
Hold up. Pump the brakes. The bounce from oversold conditions just got more difficult as sellers forced buyers to come to a screeching halt.
The S&P 500 (SPY) fell 0.9% in what looks like a "close enough" failure at downtrending 50-day moving average (DMA) resistance. In a bit of good news, the index also bounced picture-perfect style off its 200DMA support. I will call it a stalemate.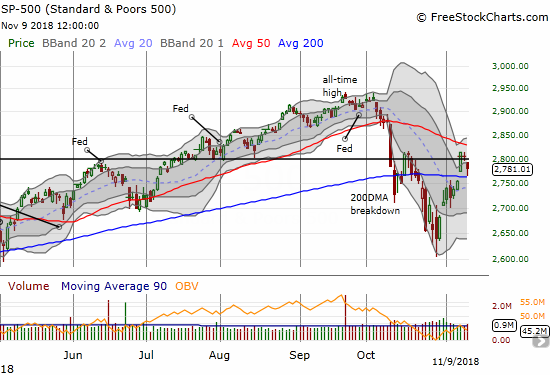 The S&P 500 (SPY) looks like it is caught in a trading range as buyers fail to punch through the previous peak or 50DMA resistance. The bounce from 200DMA support was a bit of good news.
The tech-laden NASDAQ and the Invesco QQQ Trust (QQQ) were not as fortunate as the S&P 500. Both lost 200DMA support with the NASDAQ gapping down for a 1.7% loss and QQQ slicing through support for its own 1.7% loss. Adding insult to injury, at their intraday lows, both indices reversed their post-election gains.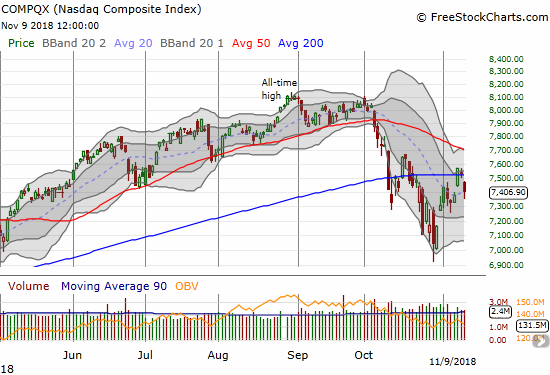 Momentum for the NASDAQ came to a screeching halt after gapping below 200DMA support.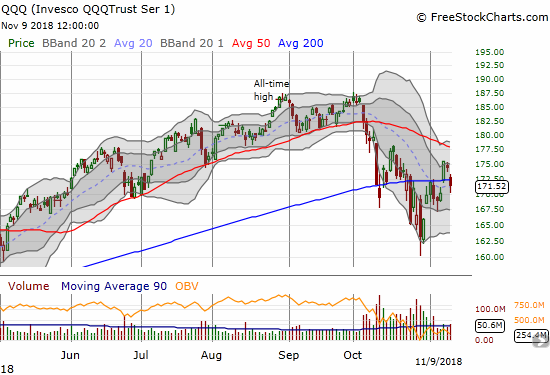 The Invesco QQQ Trust (QQQ) bounced from its low of the day, but the buying was not enough to recover 200DMA support.
The selling was not enough to rattle the volatility index, the VIX. The VIX only gained 3.8% and even fell sharply from its high of the day. The VIX still looks ready to continue its post oversold implosion. Accordingly, I bought a fresh tranche of put options on ProShares Ultra VIX Short-Term Futures (UVXY) with a 2-week expiration.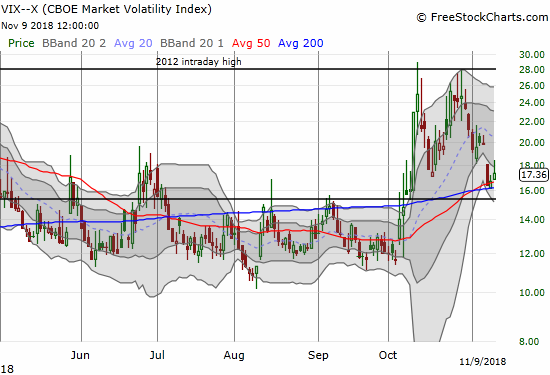 The volatility index, the VIX, gained for the second straight day but could not even manage a close above Wednesday's intraday high.
The currency markets showed some signs of stress in-line with a risk-off day. The Australian dollar (FXA) weakened and the Japanese yen (FXY). As a result, AUD/JPY suffered a notable pullback. I will not get concerned until/unless 200DMA support gives way. I used the pullback to build a slightly larger long position on AUD/JPY.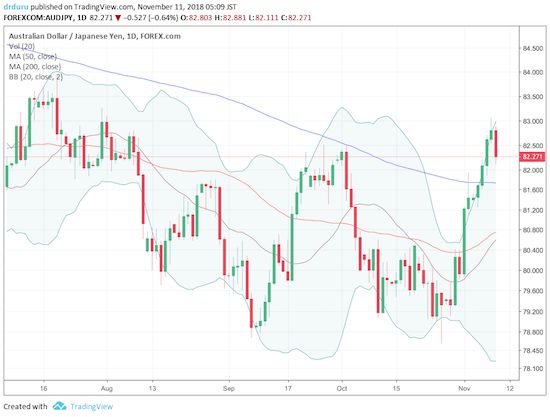 Source: Trading View
AUD/JPY pulled back on a risk-off day across financial markets. The pair is still holding onto a bullish 200DMA breakout.
A reversal like Friday's makes bulls doubt their rationale for excitement just two days ago and gives bears reason for fresh skepticism. AT40 (T2108), the percentage of stocks trading above their respective 40DMAs, tells me to be cautious, but not to downgrade my short-term trading call of bullish. AT40 dropped back to 35.5% and is still in the early stages of a rebound from oversold conditions. AT200 (T2107), the percentage of stocks trading above their respective 40DMAs, only dropped to 34.8% from Wednesday's peak of 37.4%. I am more inclined to think that the market will churn and digest gains from the rebound. I will reconsider the bearish case if the S&P 500 closes below its 200DMA support.
I stuck to my post oversold strategy of buying the dips and bought SPY call options. I plan to sell these into the next bounce. However, my core position in iShares Russell 2000 ETF (IWM) call options experienced a big setback. With just a week to go before expiration, Friday's 1.8% pullback was enough to wipe out most of the profits in those call options. I will now need to sell into the next bounce rather than wait for what I still think is an imminent retest of 50DMA resistance.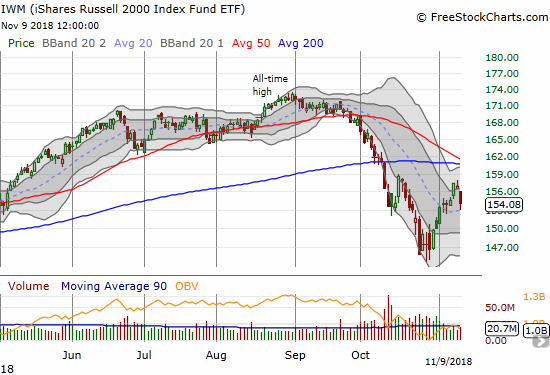 The iShares Russell 2000 ETF (IWM) lost 1.9% but bounced off its 20DMA support.
CHART REVIEWS
Baidu
BIDU finally looked ready for a sustained bounce, and I decided to hold onto a call instead of taking quick profits. My expectations were dashed on Thursday's reversal. Friday's gap down and 2.6% loss wiped out any residual expectations I had. Still, stubbornly, I went back in for a call expiring next week even with a bottom looking ever more tenuous. On a new low, I will have to consider flipping my sentiment on BIDU and Chinese (internet) stocks in general.
Disclosure: Full disclosure: long SSO, long AAPL calls, long IWM calls, long AUD/JPY, long BIDU calls, long CAT calendar call spread, long ROKU puts and shares, long FB calendar call spreads, ...
more