A New Trading Year Brings A New Test For The USD And Overconfident Markets
The most defining force in markets globally since March 2020 has been a falling US dollar, which has boosted the price of risk assets on the opposite end of the global markets teeter-totter.
After closing below $92 in late November, the US dollar index (USD) is now fathoming its next test at the 88-89 level as highlighted in my partner Cory Venable's chart below since 2002.
A break below long-term support here could signal some continuation of the risk-on rally in stocks, commodities, and corporate debt. While strength in the dollar is likely to unleash the next round of drubbing for speculators and mom and pop equity holders alike.
(Click on image to enlarge)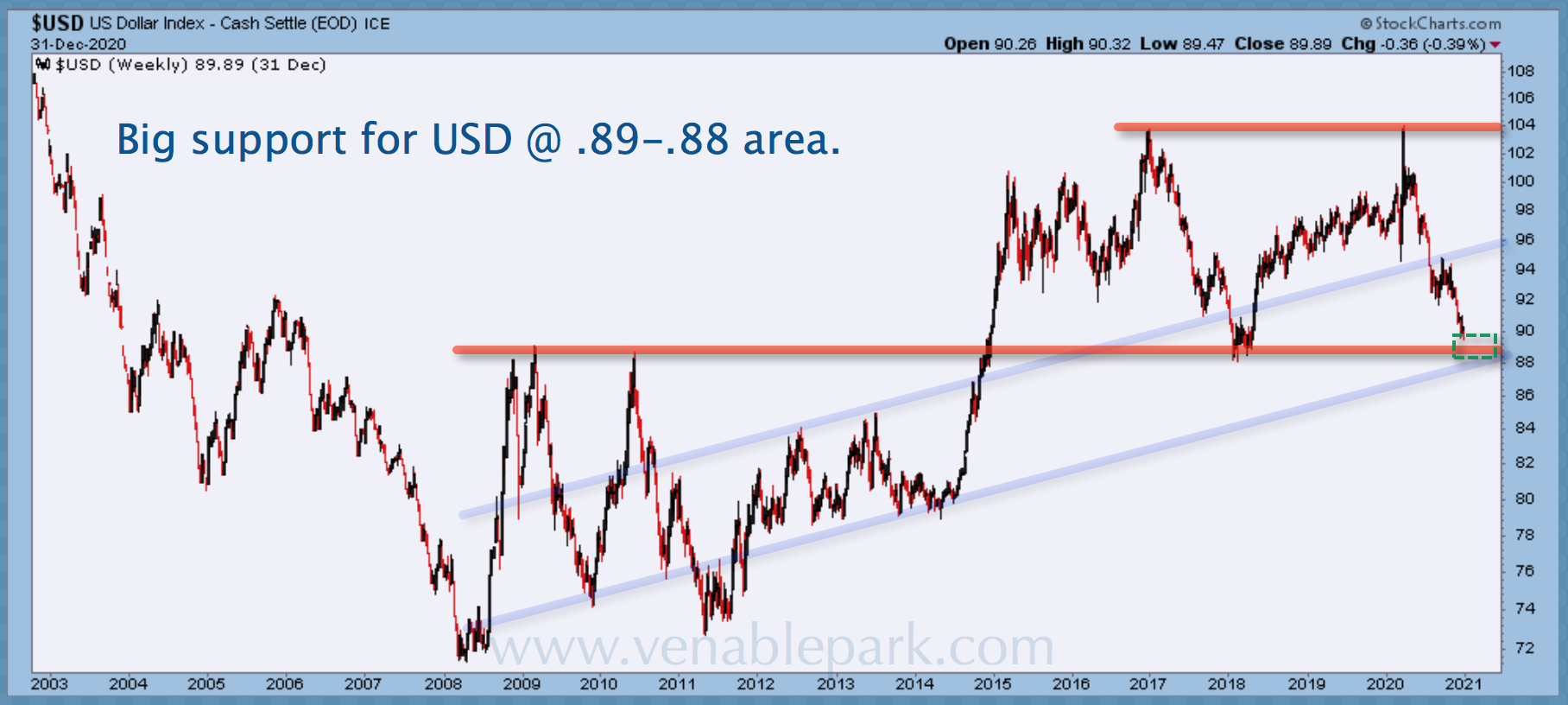 As extreme bullish equity sentiment and valuations suggest the COVID-19 pandemic and global recession are done and dusted, the reality is much less sanguine. The global spread continues to escalate amid distancing fatigue and a smart virus that is morphing for easier transmission. See Covid variant in South Africa is 'more of a problem' than the one in the UK, official says.
William A. Haseltine, infectious disease expert, chair and president of the global health think tank ACCESS Health International opines in Project Syndicate this week that there is only a slim chance that the vaccine will stop the COVID pandemic this year, and slowing the spread will require ongoing personal discipline and distancing for months to come.
At this point, jubilance has been priced to such a degree that even best-case scenarios are likely to bring disappointing investment returns.
As we noted in our year-end client letter last week, the secular bear period starting in 1900 is an interesting case study both because it too began from rich equity valuations (although much lower than today) and because it also included a global flu pandemic.
As shown in my partner Cory Venable's chart below, between 1900 and 1932 the Dow Jones Average doubled and nearly halved five times before dropping 89% between 1929 and 1932 and ending below where it had begun over thirty years earlier. Stocks for the long-run?