Cultured Meat Startups Are The Trend To Watch
Some of these products are a decade or more away from commercialization. Others are right around the corner. Startup Eat Just is readying its latest product: cultured chicken (made from cultured cells).
So is lab-grown meat real or not?
Eat Just CEO Josh Tetrick is adamant on this point. He says that as opposed to plant-based, it's real in every way. Just no chicken was killed. Eat Just's product has been approved to sell in Singapore and is awaiting approval in the U.S.
Another cell-based meat producer is Memphis Meats. Its offerings include whole burgers, ready to sell to restaurants and stores right now. Memphis Meats is in discussions with the FDA and the USDA on how to "best" label its food products.
My favorite company in this space is Israeli-based Redefine Meat. I've been following this company for more than a year. It uses industrial 3D printing to create steaks. The "ink" is made of plant-based ingredients similar to what a cow eats. The technology fully replicates the muscle structure of beef. It is high in protein and has no cholesterol. And according to the company, it looks, cooks, feels, and tastes like beef. Much to my frustration, I've never tasted one. But they sure look great…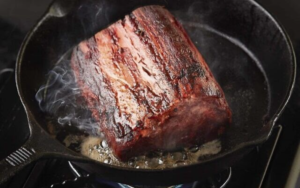 An illustration of the 3D printed whole muscle cut of beef by Redefine Meat (Courtesy)
Redefine Meat aims to sell its printers and cartridges to meat distributors worldwide, who will both print and distribute the meat once produced.
I believe meat lovers (including me) should rejoice at the new options hitting the market. We're not under attack. On the contrary, startups want to please us. We're a huge market. And a growing number of us want to eat healthier — but without giving up red meat. And with this new technology, we'll continue to get our choice of cuts, organic meats, choose fresh or frozen, etc. None of that changes.