Cryptos Crash After BitMEX Founders, Execs Face CFTC Charges
Bitcoin prices have plunged this morning after the US Commodity Futures Trading Commission (CFTC) alleged that major crypto-trading platform BitMEX facilitated unregistered trading and other violations.
(Click on image to enlarge)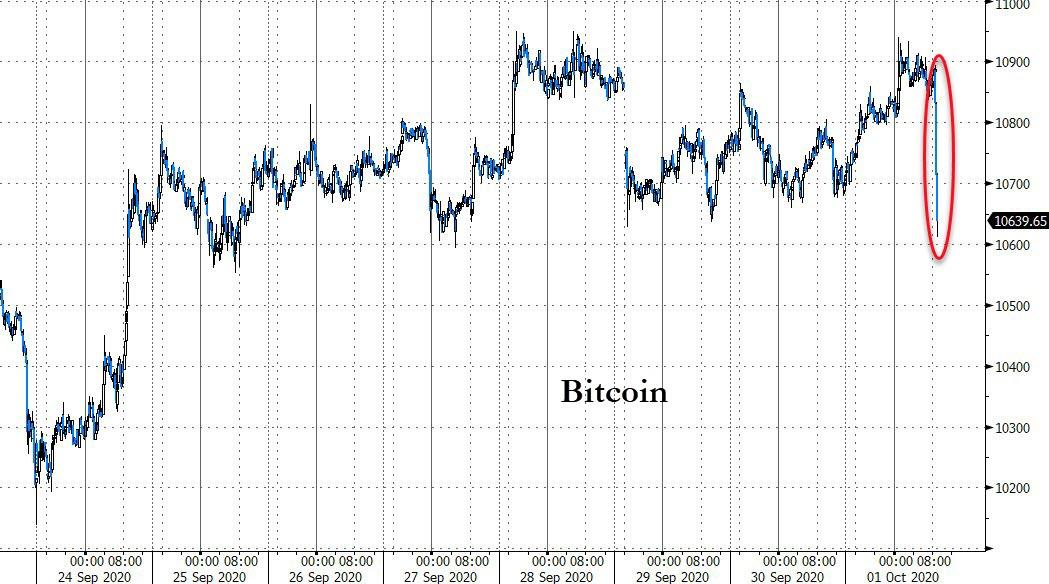 Source: Bloomberg
The CFTC announced this morning that it was charging BitMEX, CEO Arthur Hayes, company owners Ben Delo and Samual Reed, and corporate entities HDR Global Trading Limited, 100x Holding Limited, ABS Global Trading Limited, Shine Effort Inc Limited and HDR Global Services (Bermuda) Limited with offering U.S. customers illicit crypto derivative trading services.
In a press release, the CFTC alleged that BitMEX received some $11 billion in bitcoin deposits and made more than $1 billion in fees, "while conducting significant aspects of its business from the U.S. and accepting orders and funds from U.S. customers."
The uncertainty weighed on the entire crypto space...
(Click on image to enlarge)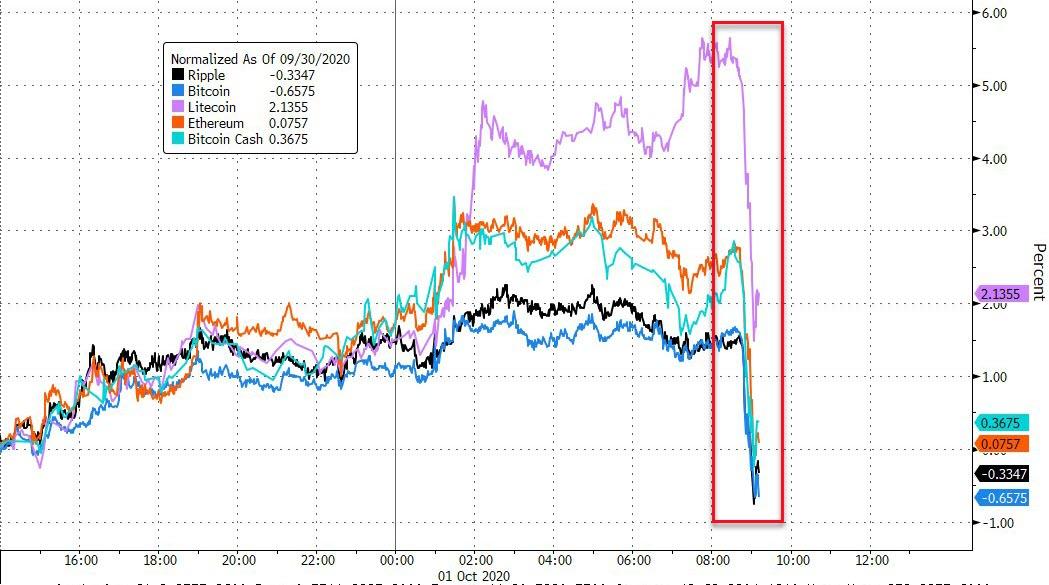 Source: Bloomberg
BitMEX, which has reportedly been under investigation by the CFTC since at least July 2019, implemented mandatory KYC in April of this year.
"Digital assets hold great promise for our derivatives markets and for our economy," said Chairman Heath P. Tarbert.
"For the United States to be a global leader in this space, it is imperative that we root out illegal activity like that alleged in this case. New and innovative financial products can flourish only if there is market integrity. We can't allow bad actors that break the law to gain an advantage over exchanges that are doing the right thing by complying with our rules."
"As the CFTC has made clear, registration requirements are a cornerstone of the regulatory framework that protects Americans and U.S. financial markets," added Division of Enforcement Director James McDonald.
"Effective anti-money laundering procedures are among the fundamental requirements of intermediaries in the derivatives markets, whether in traditional products or in the growing digital asset market. This action shows the CFTC will continue to work vigilantly to protect the integrity of these markets."
Disclosure: Copyright ©2009-2020 ZeroHedge.com/ABC Media, LTD; All Rights Reserved. Zero Hedge is intended for Mature Audiences. Familiarize yourself with our legal and use policies ...
more