Crypto Carnage Erases Over $200 Billion In Market Cap
After topping $1 trillion for the first time last week ($1.1 trillion at its peak), the total market cap of the cryptocurrency space has plunged by over 20% this week (back below $900 billion) after a bloodbath in Bitcoin and Ethereum evisceration this weekend.

Bitcoin plunged from $40,000 on Friday to $32,300 today...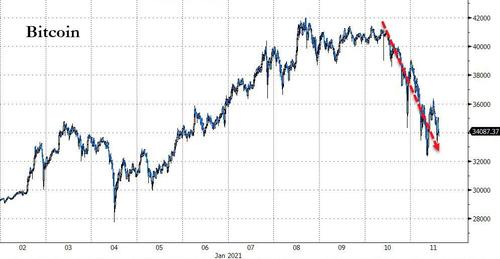 Source: Bloomberg
Ethereum plunged from over $1350 yesterday morning to $1006 this morning...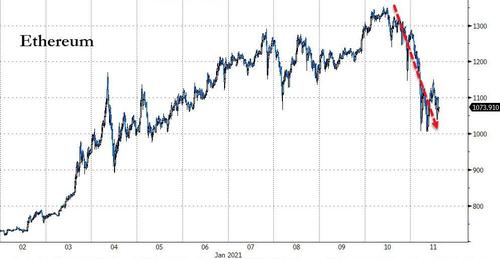 Source: Bloomberg
"It's to be determined whether this is the start of a larger correction, but we have now seen this parabola break so it might just be," said Vijay Ayyar, head of business development with crypto exchange Luno in Singapore.
Various catalysts for the drop have been suggested including dollar strength (despite Biden promises of trillion-dollar deficit-spending plans), UK regulatory crackdowns (FCA fraud warnings and bank deposit blocks), and finally, one major institutional buyer throwing in the towel.
First things first, the dollar has been accelerating recently...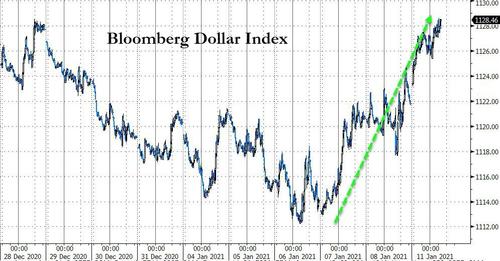 Source: Bloomberg
Some crypto traders have suggested comments from the U.K.'s financial watchdog could have raised concerns among recent market entrants.
The FCA issued a stark warning for consumers looking to profit from crypto: be ready to lose everything.
"Investing in cryptoassets, or investments and lending linked to them, generally involves taking very high risks with investors' money," the Financial Conduct Authority said in a statement.
The FCA's concerns include price volatility, the complexity of products offered, and the lack of consumer protection regulation around many of the products.
Additionally, The Times reports that some banks are refusing to transfers from bitcoin exchanges.
Some have pointed to Bitcoin's recent rise above its Stock-to-Flow fair value as being a catalyst for a pullback...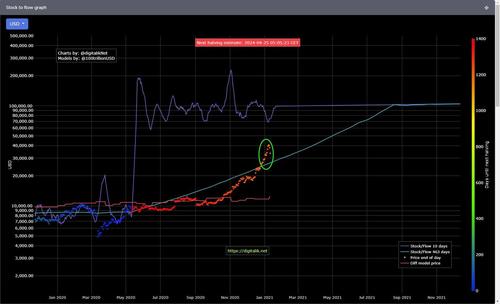 Disclaimer: Copyright ©2009-2021 ZeroHedge.com/ABC Media, LTD; All Rights Reserved. Zero Hedge is intended for Mature Audiences. Familiarize yourself with our legal and use policies every ...
more