Tesla Explodes Higher As Company Reports Blowout EPS, Even As CapEx Disappoints Again
And speaking of Shanghai, Tesla said it was already producing full vehicles on a trial basis, from body, to paint and to general assembly, at the Chinese Gigafactory:
"With Model 3 priced on par with gasoline powered mid-sized sedans (even before gas savings and other benefits), we believe China could become the biggest market for Model 3."
Looking ahead, Tesla repeated that "deliveries should increase sequentially... We are highly confident in exceeding 360,000 deliveries this year." It appears that Tesla has now removed the upper end, 400,000 of the range it had provided before.
Most importantly for investors, however, Tesla now forecasts "positive quarterly free cash flow going forward, with possible temporary exceptions, particularly around the launch and ramp of new products. We continue to believe our business has grown to the point of being self-funding."
The only problem with this statement: Tesla has made it before.
So while analysts are scratching their heads to figure out just how Musk padded results this quarter, the stock is exploding higher in a furious short squeeze, trading up 17% to just shy of $300, the highest since April.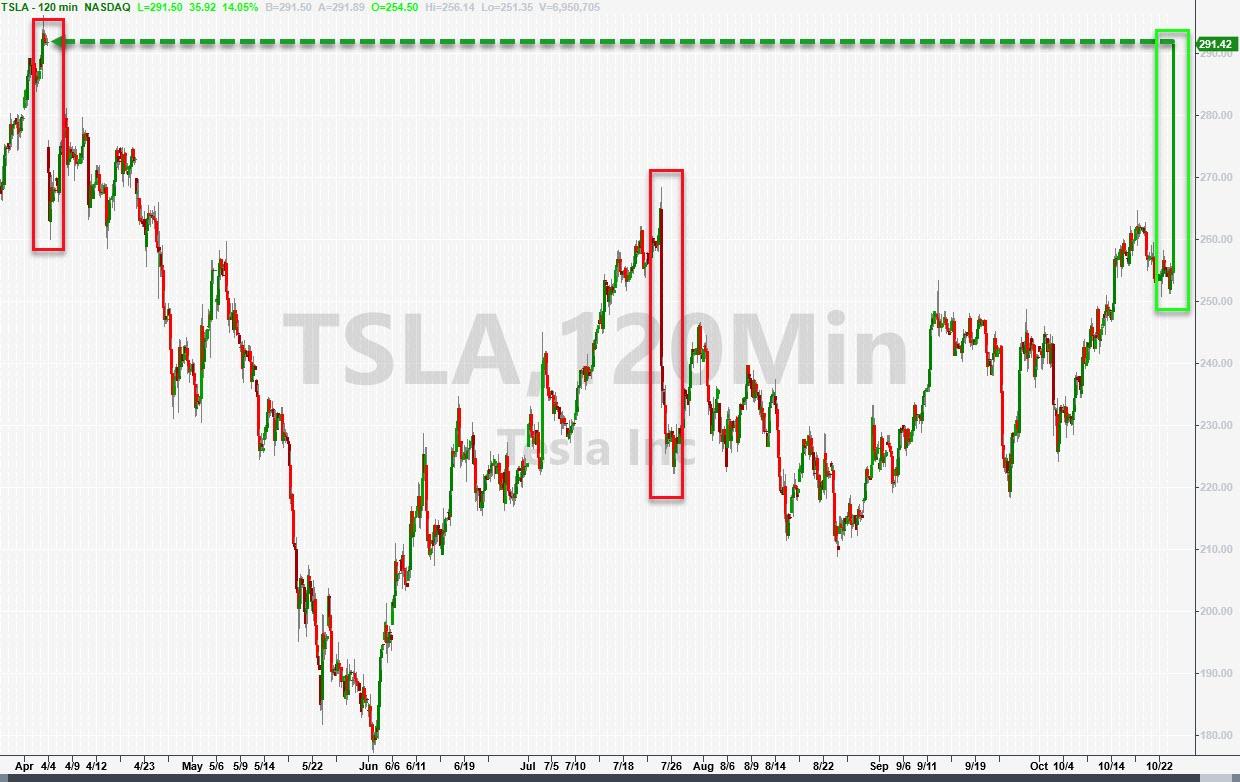 Bizarrely, while Elon Musk didn't sign the actual quarterly letter - a first - he did Tweet his own summary of the company's results.

Tesla Q3 results:

- Shanghai Giga ahead of schedule
- Model Y ahead of schedule
- Solar installs +48% from Q2
- GAAP profitable
- Positive free cash flow

— Elon Musk (@elonmusk) October 23, 2019
Disclosure: Copyright ©2009-2019 ZeroHedge.com/ABC Media, LTD; All Rights Reserved. Zero Hedge is intended for Mature Audiences. Familiarize yourself with our legal and use policies every ...
more