Tesla Explodes Higher As Company Reports Blowout EPS, Even As CapEx Disappoints Again
And speaking of sources of funding, Tesla reported that its customer deposits actually increased for the first quarter since Q4 2017, from $631MM to $665MM.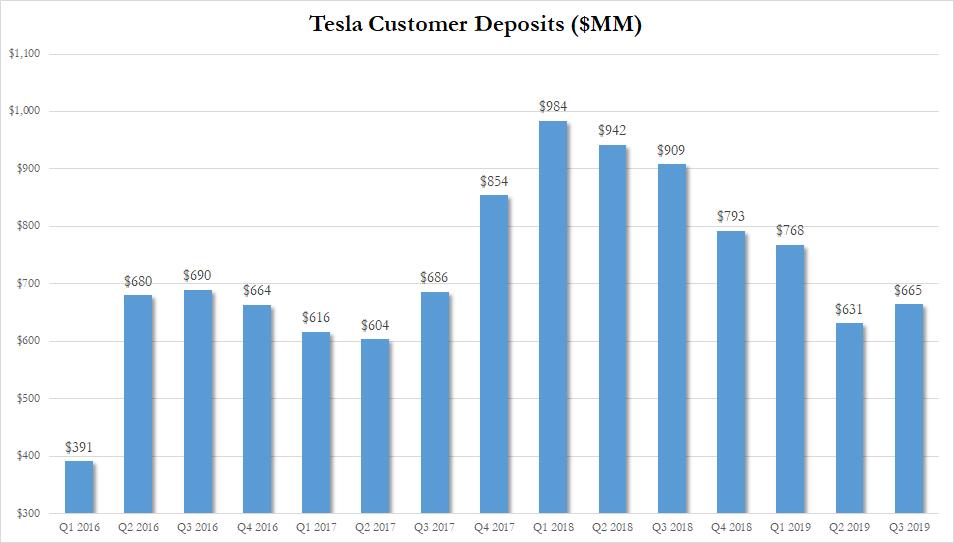 Discussing the revenue decline, Tesla's letter said that compared to Q3 of 2018, "the percentage of leased vehicles has tripled and alone has impacted revenue by the majority of the YoY decrease." As Bloomberg clarifies for the non-auto geeks/New Yorkers who don't own cars, "that means more cars are coming back to the company, and it has to hold them on its books." As a further reminder, EVs have notoriously low residual values, because the tech is changing so fast. Tesla also cut prices to move out inventory, which also hurts the prices of the leased cars in the used market.
That said, Tesla is hoping to accelerate growth "through Gigafactory Shanghai, Model Y and also through increasing build rates on our existing production lines. These capacity increases will allow for higher total vehicle deliveries and associated revenue. We also expect to gradually release nearly $500M of accumulated deferred revenue tied to Autopilot and Full Self Driving features."
Commenting on its profit margin, TSLA said that GAAP Automotive gross margin improved by 393bp QoQ to 22.8% (up 3.66% QoQ excluding regulatory credits), which is bizarre since the average ASP actually decline notably in Q3, and here's how it justified the move:
Margin was impacted in part due to fundamental improvements in our operating efficiency, including higher fixed cost absorption, reductions in manufacturing and material costs and continued improvements in vehicle quality and in part due to Smart Summon-related deferred revenue recognition, FX and other non-recurring items. Improved gross profit combined with a decline in operating expenses resulted in material improvement of GAAP net income.
Bizarrely, Tesla dedicated no less than 8 slides in its reformatted "investor letter" to photos of Shanghai factory, such as this one: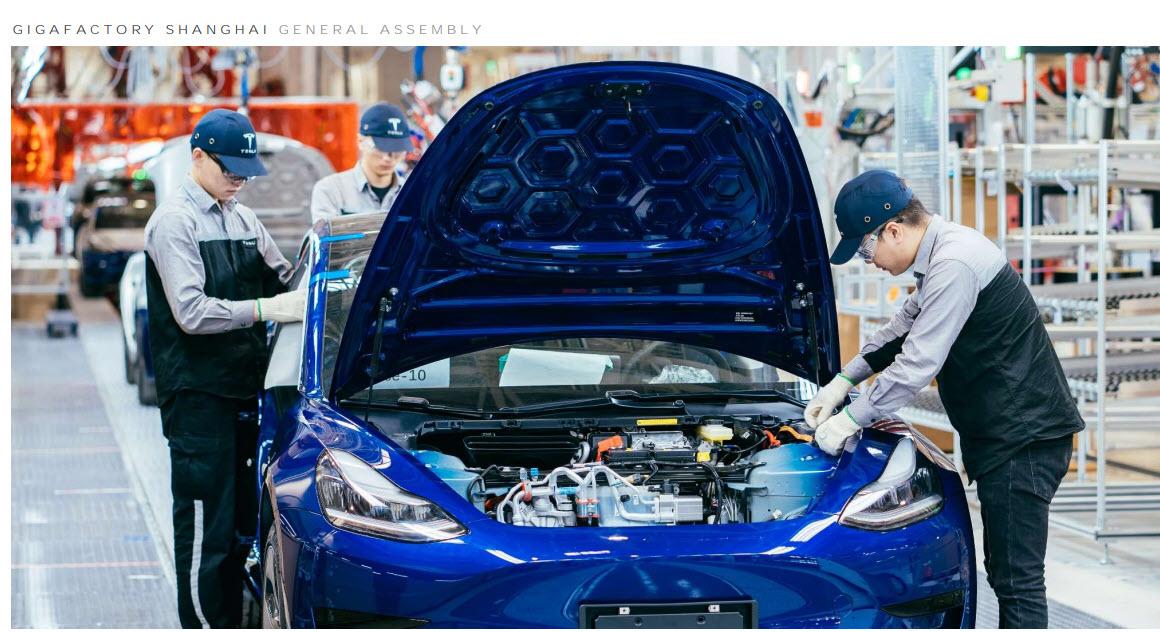 The company also reported that "Trial production of Model 3 in Shanghai has begun, ahead of schedule. We are also ahead of schedule to produce Model Y and now expect to launch by summer 2020. We are planning to produce limited volumes of Tesla Semi in 2020 and are hoping to announce soon the location of our European Gigafactory for production in 2021."
Disclosure: Copyright ©2009-2019 ZeroHedge.com/ABC Media, LTD; All Rights Reserved. Zero Hedge is intended for Mature Audiences. Familiarize yourself with our legal and use policies every ...
more