WTI Crude Oil Trades Intraday To 2017 High As OPEC Breeds Confidence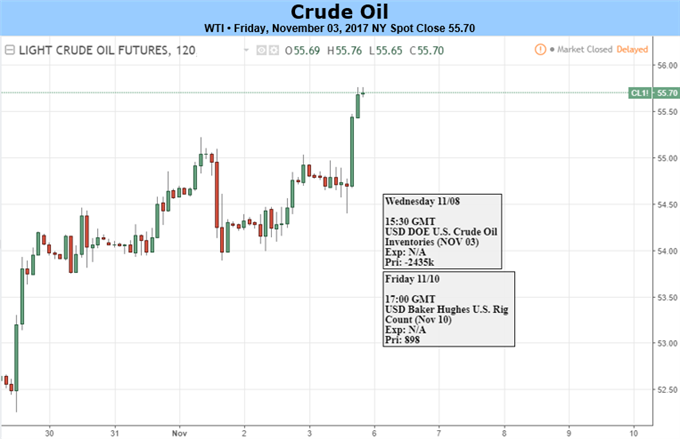 Fundamental Forecast for USOIL: Bullish
The price of Crude Oil is set to rise another week, making it the fourth advancement of both WTI Crude and ICE Brent Oil. In late trading on Friday, WTI Crude Oil rose to the highest intraday level since July 2015. After a weak start to October, the price of crude has risen aggressively alongside base metals on a comparable convergence of demand beginning to outstrip supply. OPEC's annual meeting in Vienna later this month will be a key event where the leaders of OPEC are expected to agree on
A key driver of higher crude oil has been the expressed view by OPEC's largest exporter, Saudi Arabia's oil minister, Khalid Al-Falih, who said the "Mission is not accomplished." Traders should note that this was said as Brent (the global oil benchmark) traded at 27-month highs as producers pump less leading to lower output and higher prices. From a strategic perspective, OPEC+ (a moniker for OPEC and key allies like Russia) appears to be taking the long view, which has been validated by the forwards curve.
The forward curve in Brent is showing the most bullish view in nearly three years as the lowest point through 2019 is at $56, which lifts the floor of expected future Brent prices. Much of this rising forward curve is based on signs that OPEC will agree to extend the curb production pact either six or nine months after the deal expiry of March 2018. In the US, a positive weekly EIA Crude Oil Inventory Report showed the glut appears to be over as Oil stockpiles fell to a two-year low as exports, hit a new record last week showing the pick-up in global demand.
Lastly, earnings from big oil firms were undoubtedly positive and optimistic as Q3 earnings hit the market in recent weeks. In addition to confidence that OPEC will back an extension in production curves, Oil service companies see higher prices and higher demand on the horizon forecasting an increase in earnings. Now the equity prices of oil companies are aligning and catching up to the price of the product they discover, refine and/ or deliver.