Wind And Solar Get Increasingly Cheaper
Wind and solar energy are expected to gain cost competitiveness over fossil fuel and nuclear power in 2021. Increasingly, it is becoming cheaper to add new wind and solar capacity compared to new fossil fuel power plants or nuclear power plants.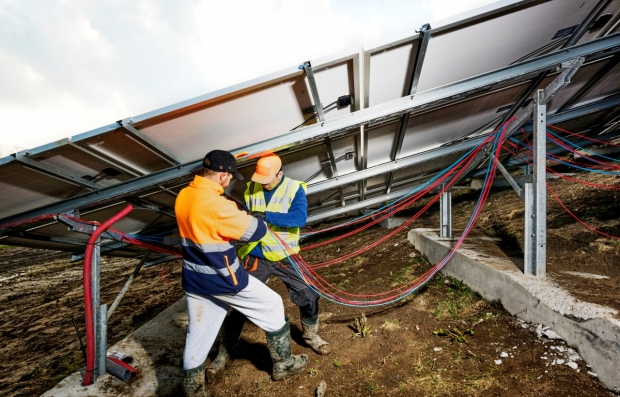 Source: ING
The anticipated 35 GW addition of wind and solar capacity will likely add to price volatility in European power markets in 2021, as large scale power storage facilities, such as batteries and electrolysis, remain relatively small.
First tipping point: gifts of nature
The price development of wind and solar is marked by three important tipping points (see table). First, wind and solar power have always benefited from close to zero marginal costs. Once the panels and turbines are in place they are the cheapest technology to produce an extra MWh of electricity, as wind and sun are freely available whereas fossil power plants need to pay for gas or coal. In short, existing wind and solar projects outcompete existing coal and gas power plants. Renewables drive out fossil fuel production once they enter the power mix.
Overview of renewable energy price tipping points: competition continues in 2021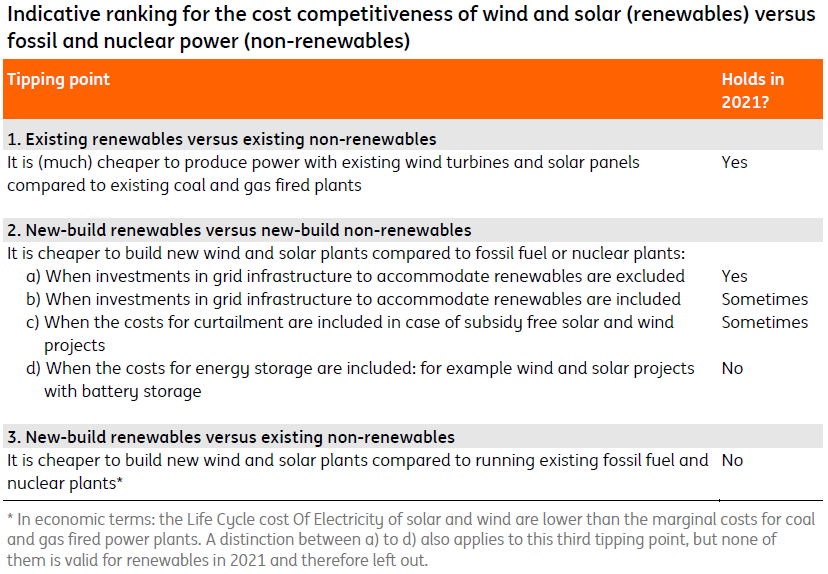 Source: ING Research
Second tipping point: new-build wind and solar cheaper than new-build coal, gas, and nuclear plants
For investment decisions, one must also include the initial investment through capital costs and the maintenance costs to keep the technology running. The Life Cycle cost Of Electricity (LCOE) does just that and can be viewed as the total cost to produce an MWh of electricity during the lifespan of the asset. Nowadays, even new-build renewables are, on average, cheaper than new-build fossil fuel or nuclear power plants (see graph). We expect this gap to widen further in 2021. First, solar panels and wind turbines continue to get cheaper and experience favorable tender conditions in the current economic environment. Second, we expect upward pressure on fossil and carbon prices in 2021. Lastly, an estimated 35 GW of solar and wind capacity is expected to enter European power systems, which will lead to lower utilization rates of fossil fuel power plants.
Disclaimer: This publication has been prepared by ING solely for information purposes irrespective of a particular user's means, financial situation or investment objectives. The information ...
more