Will Inflation Make Gold Shine In 2021?
Inflation will be one of the greatest upside risks for gold this year. Will it materialize and make gold shine?
The report about gold in 2021 would be incomplete without the outlook for inflation. We have already written about it recently, but this topic is worth further examination. After all, higher inflation is believed to be one of the biggest tail risks in the coming months or years, and one of the greatest upside risks for gold this year.
Most economists and investors still believe that inflation is dead. After all, the only way to justify the central banks' unprecedentedly dovish actions is the premise of low inflation. And the only way to justify the buoyant stock market amid the new highs in the number of Americans in the hospital with COVID-19 is the expectation of an inflationless economic recovery this year. In other words, many people forecast the return to the Goldilocks economy after the end of the pandemic.
On the surface, it seems that they might be right. We haven't seen double-digit inflation since the end of 1981. And last time the CPI annual rate was above 3 percent was in January 2012. Actually, in the last ten years, inflation was below the Fed's 2-percent target most of the time, as the chart below shows.
(Click on image to enlarge)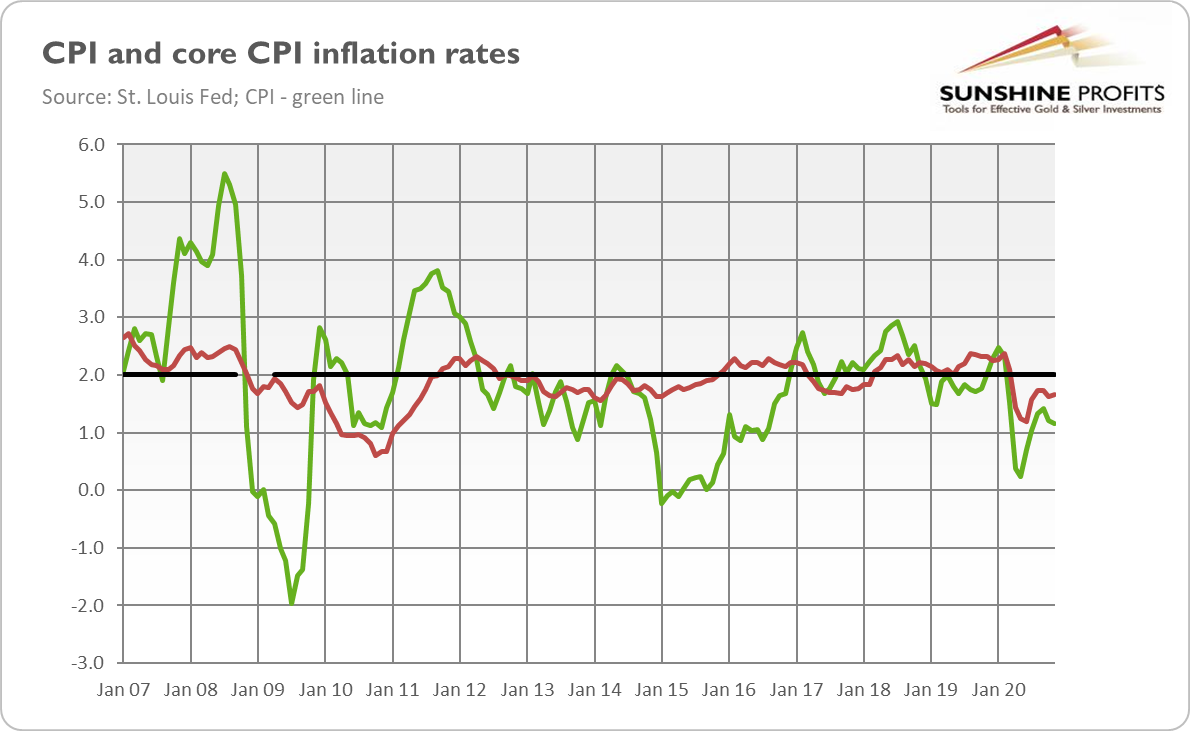 Moreover, the inflation rates dropped significantly during the U.S. epidemic and the Great Lockdown when people distanced socially and limited their spending. So, given the strength of the negative demand shock and the following plunge in inflation, why should we worry about the risk of higher inflation?
Well, shouldn't it be obvious after experiencing a pandemic, i.e., an improbable but impactful event? Even a small probability of a surge in inflation should be worrying, especially given the pile of debt and, thus, limited room for central banks to hike interest rates to prevent inflation.
Moreover, the likelihood of an increase in inflation is not so small. As I've explained several times, the case for higher inflation is stronger today than in the aftermath of the Great Recession. The first reason is that the broad money supply has surged. This is because the banks haven't been hit so far (in contrast to the financial crisis where banks suffered greatly), so they have been lending freely, as the chart below shows.
Disclaimer: Please note that the aim of the above analysis is to discuss the likely long-term impact of the featured phenomenon on the price of gold and this analysis does not indicate (nor does it ...
more