Will Gold Rally Continue In The Upcoming Months?
May was certainly a positive month for the yellow metal. Gold could keep its momentum later this year, but a lot depends on the Fed and inflation.
Image Source: Pixabay
We left May in the rearview mirror, and as the chart below shows, it was the second positive month in a row for the yellow metal. Gold rose 7% last month – this is 12.3% since the local bottom on March 31, 2021. The jump was driven mainly by inflation fears, a weak greenback and a decrease in real interest rates.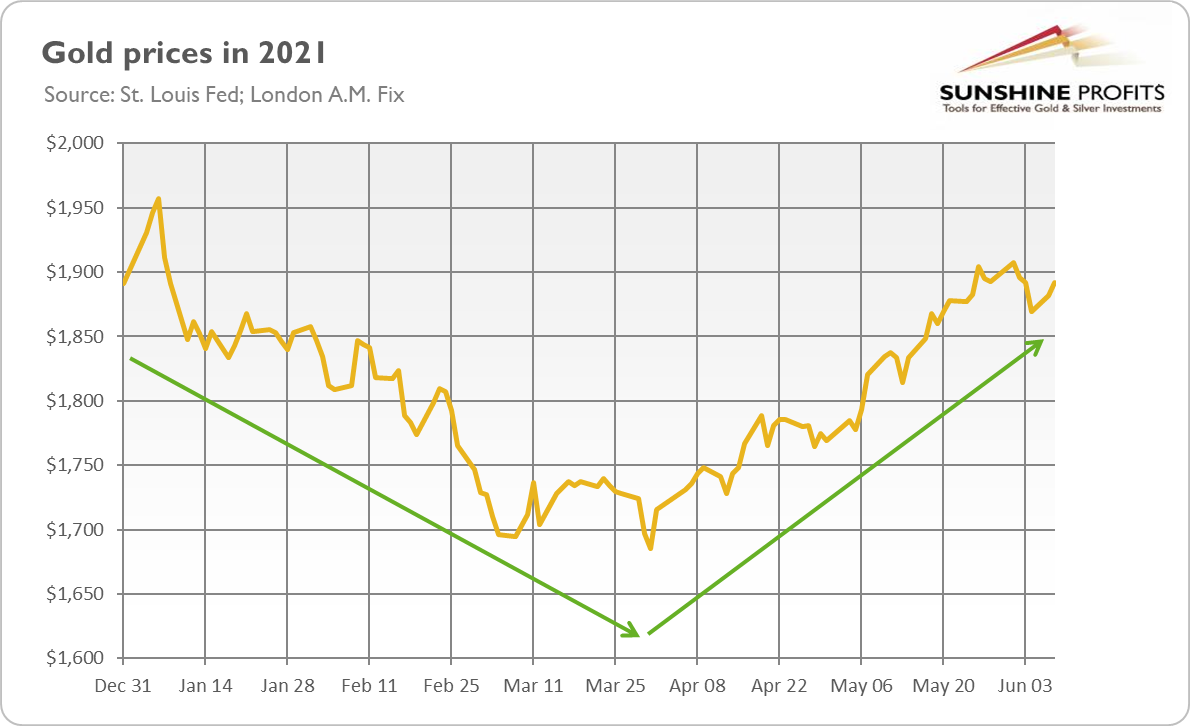 Hence, I was right: the second quarter has been so far much better for the shiny metal than the first one, in which it declined by 11%. Gold even jumped temporarily above $1,900 at the turn of May and June. Since then, it has been fluctuating around this level. All this means that the yellow metal fully recovered its Q1 losses, finishing last month virtually flat year-to-date.
Now, the key question is: what's next for gold? Outlooks are, as always, divided. Some analysts point out that gold's struggle to move decisively north above $1,900 amid all the increase in the money supply, public debt and inflation is disturbing and has bearish implications for the future. For instance, the French bank Société Générale still believes that we will see $2,000 per ounce by the end of the year, but its conviction towards this forecast has weakened. I have to admit – the lack of a stronger rally in gold is something I also worry about.
But on the other hand, some believe that gold is still in a long-term bull trend. For instance, the World Gold Council, in its latest Gold Market Commentary, points out that sentiment towards gold became more bullish in May, as net positioning on COMEX futures rose to its highest level since February. Moreover, not only gold ETFs recorded their first monthly inflows since January 2021, but also the highest ones since September 2020.
Disclaimer: Please note that the aim of the above analysis is to discuss the likely long-term impact of the featured phenomenon on the price of gold and this analysis does not indicate (nor does ...
more