Will Central Bank Save Gold?
Central banks' purchases create a floor for gold prices. Myth or fact? We invite you to read our today's article about the central banks' demand for gold and find out whether it will save gold.
Gold is an important part of central banks' foreign exchange reserves. As of H1 2018, they hold about 34,000 tons of bullion worth $1.36 trillion, or 10.3 percent of the total reserves, according to the World Gold Council.
Interestingly, we have recently seen the increased interest in gold. In the first nine months of 2018, central banks purchased more than 350 tons, the fastest pace of accumulation since 2015. In sole Q3 2018, central banks bought more than 148 tons, 22 percent higher year-over-year. It was the highest level of quarterly demand since Q4 2015, as one can see in the chart below.
Chart 4: Central banks' demand (red line, left axis, in tons) and the price of gold (yellow line, right axis, London P.M. Fix, in $) from Q1 2010 to Q3 2018.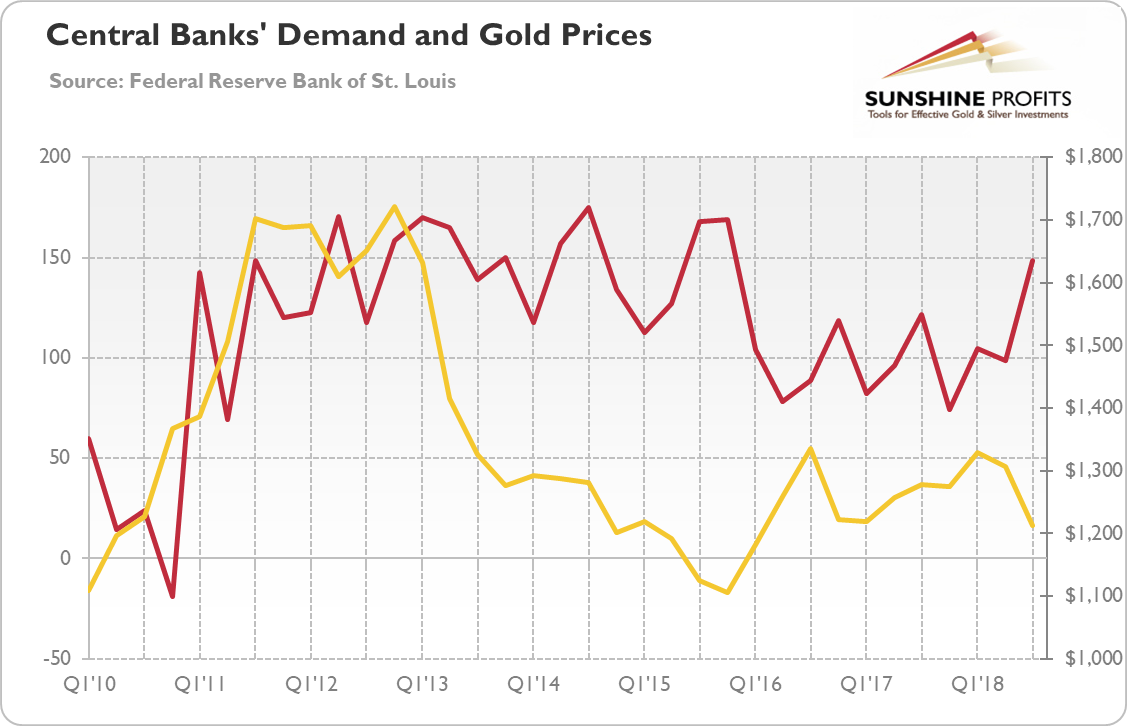 What is important is that more central banks joined the list of gold purchasers, which means that the gold's appeal is widening. While Russia, Turkey, and Kazakhstan continued their buying, other players decided to buy the yellow metal as well. For example, Egypt bought gold for the first time since 1978, while India added gold to its assets for the first time in almost nine years. Also Indonesia, Thailand and the Philippines re-entered the market after multi-year absences.
Moreover, the National Bank of Poland made its first purchases of gold in 20 years, while the Hungarian National Bank added more gold to their reserves for the first time since 1986. Their purchases marked the first growth in gold reserves within the European Union so far in the 21st century.
Hence, the questions arises. Why are they buying? Does that mean that the price of gold is going to rise? Do the central banks' purchases of bullion provide a floor for its price?
If you enjoyed the above analysis and would you like to know more about the most important macroeconomic factors influencing the U.S. dollar value and the price of gold, we invite you to read the ...
more