Will Biden Inaugurate Gold's Rally?
The price of gold increased on Inauguration Day, arousing investors' hopes for a new bullish phase.
Ladies and gentlemen, it's official now – Joe Biden and Kamala Harris have been sworn in as the President and Vice-President of the United States, respectively. What does this imply for America?
Well, before we move on to Biden, let's say goodbye to Trump. You can love him or hate him, but there is no denying that the 45th presidency was excellent for the price of gold. As the chart below shows, the price of the yellow metal rose more than 50 percent since January 2017 (although gold initially declined after the election results).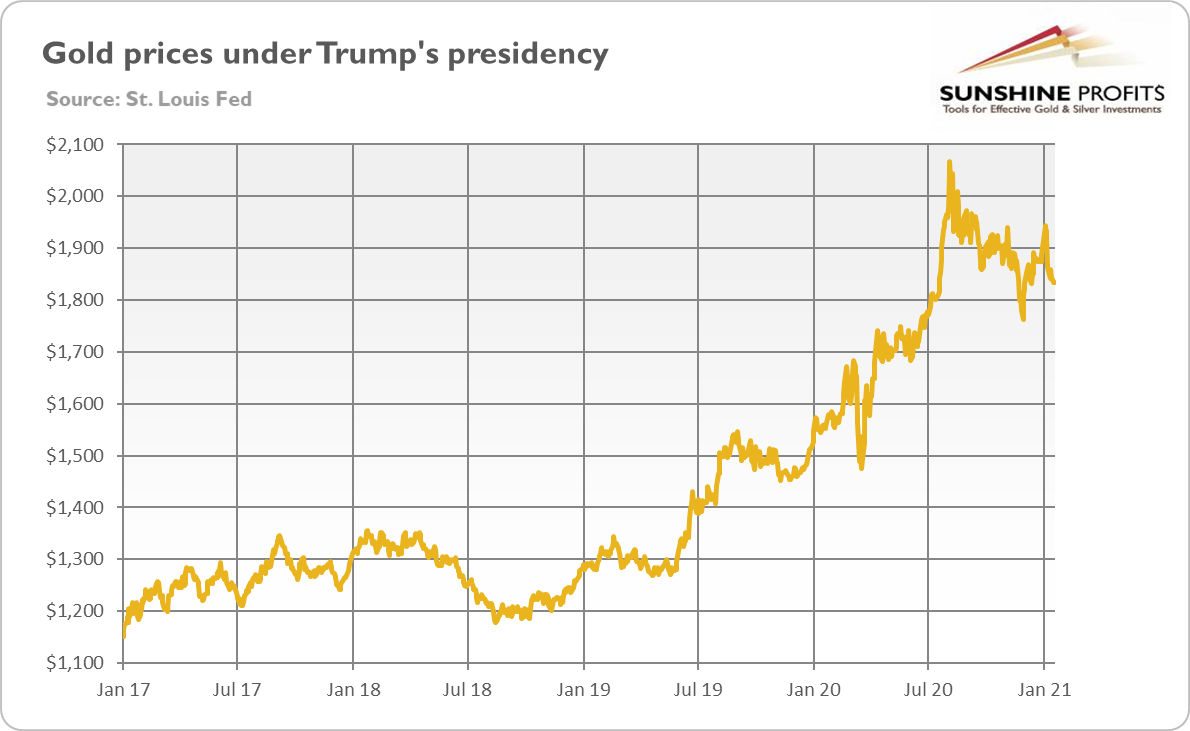 But Trump is now out of the White House, while Biden is in. What are the economic implications of this change? Well, I used to claim that people generally overestimate the impact that politics and the power of Presidents have over economic developments. However, this time may be different for two reasons.
First, Biden is going to quickly reverse many of Trump's decisions. For instance, he is going to reverse the construction of the border wall, the travel ban targeting mainly Muslim countries and the withdrawal from the Paris climate accord as well as from the World Health Organization. Biden will also impose a mask mandate on federal property, reversing Trump's ambiguous stance on the epidemic in the U.S.
Second, the 46th presidency could be remembered in the future as having been fiscally lavish – and Biden seems to be determined to overshadow Trump in that matter. He has already proposed to spend $1.9 trillion to stimulate the economy – on top of previous aid packages worth more than $3 trillion. Importantly, Biden calls his mammoth plan just "the first step" and he is going to soon announce a plan for spending on infrastructure and clean energy which could be worth more than $2 trillion. Additionally, Janet Yellen, likely the next U.S. Treasury Secretary, has recently confirmed the stance of the new administration, saying that the government should act "big" to jump-start the economy, as "the benefits will far outweigh the costs" of being bold.
Disclaimer: Please note that the aim of the above analysis is to discuss the likely long-term impact of the featured phenomenon on the price of gold and this analysis does not indicate (nor does it ...
more