Why The Silver Bull Run Is Inevitable
In the late 1990s, on the cusp of the turn of the millennium, legendary investor Warren Buffet made a big move: he purchased roughly 130 million troy ounces of silver — primarily bought off the COMEX at a price around $5 an ounce. Now, it is public knowledge that Buffet is a value investor, targeting assets that he believes are trading for less than their intrinsic value. It may have been for this reason that, after his 1997 move into silver, investors shifted their attention to the undervalued metal.
The media covered this move, of course. Forbes Magazine did a focus piece on the silver market, featuring a chart of the inflation-adjusted price of silver along the years. Below, you can see the chart for yourself. What this chart reveals is that Buffet was buying silver at its lowest price in recorded history. With this, people began to wake up to the undervalued safe haven.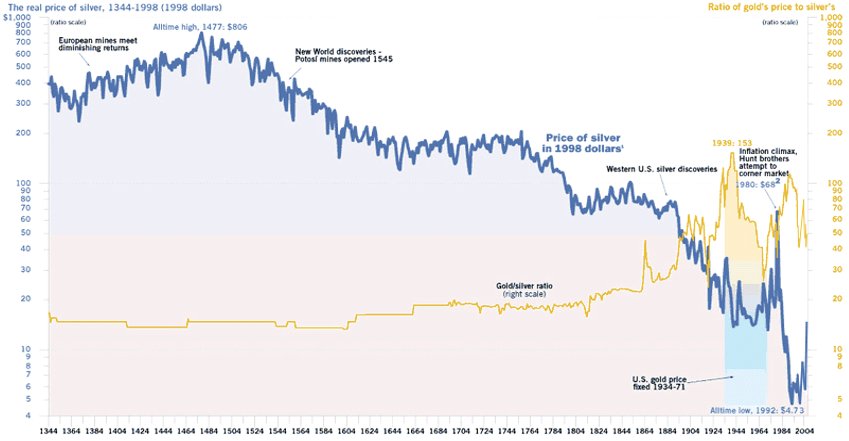 While the data only covers until the year 1998, if this analysis were continued to include the last two decades, you would see that silver, on an inflation-adjusted basis, has already reached the $1,000 an ounce mark. Moreover, if this chart was replicated today, you would see that silver is now nearly as cheap as it was when Buffet bought it. (Remember: Chart is inflation-adjusted).
Timing is everything, especially in a fast-moving market like the silver market, where 90% of the move comes in the last 10% of the time. An ounce of silver remains an ounce of silver, the only thing that changes is the price attached to it and its value as a consequence.
Years of studying precious metals has fortified the fact that silver and gold preserve wealth in the long-term. Whereas you hold these metals for decades and they maintain the same purchasing power throughout, there are times where they will overshoot in value substantially. What is becoming clear is that we are currently approaching one of those times, as a currency crisis begins to unfold.
Everything is now lining up for the asymmetric gains to materialize. Silver, particularly more than gold, will likely see these gains for a number of reasons. As an asset with a value that has been so misrepresented over the years, as an affordable asset, and as silver awareness and education continues to rise. The thing about silver and gold is that you don't need a brokerage account, you don't need a counterparty; in big cities, there are dealers available in your immediate radius where you can trade your fiat for real wealth. If you are more rural, there is the Internet.