EC

Where Next For Silver As A Proxy For Gold
(Click on image to enlarge)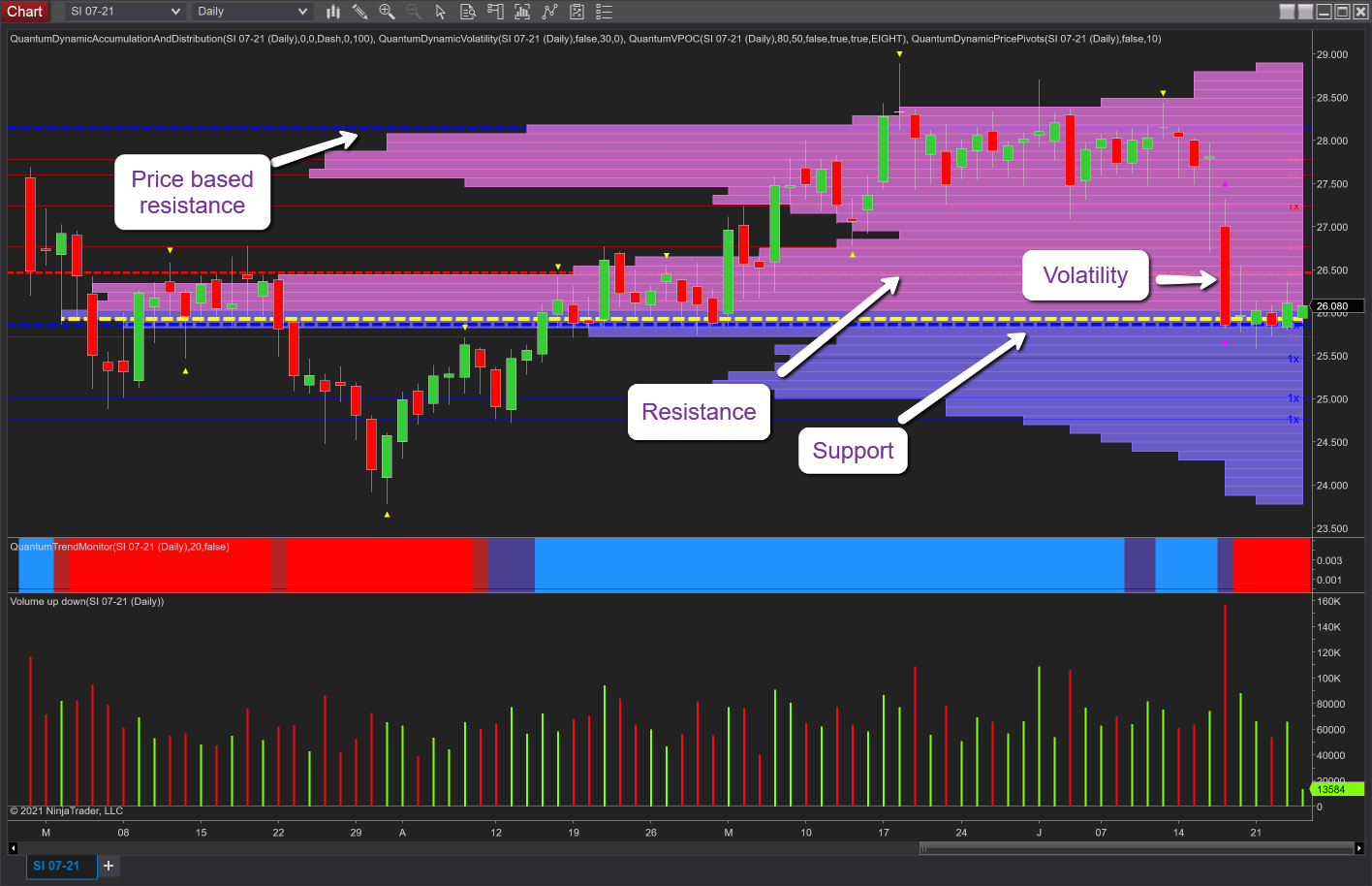 When considering the likely future direction for gold it's often helpful to drop in on silver and see where its less illustrious but industrially important near cousin is heading from a technical perspective and here we are on the daily chart which is revealing to say the least.
May and early June was a period of congestion for the metal which struggled to break beyond the $28.20 per ounce area and in doing so developed a strong region of resistance denoted with the blue dashed line of the accumulation and distribution indicator. This level thickens according to the number of times it is tested so giving us an instant visual picture of price-based support and resistance regions in all timeframes. This level also coincided with a substantial area of volume-based resistance on the VPOC histogram to the right of the chart, with the price failing to break through into the low volume area at $28.50 per ounce and beyond.
The plunge in the markets and metals following the miscommunication by the Fed last week saw silver close the day with a wide spread down candle on high volume, but more significantly with a volatility trigger shown with the two magenta triangles top and bottom. Once this appears we can expect one of two things to occur – either congestion or a reversal. In this case, we are witnessing the former and in addition and just as important we are now at the volume point of control for the metal at $26 per ounce and denoted with the yellow dashed line, so a further reason to expect congestion as the market reaches price agreement at the fulcrum of the VPOC. From a price-based support and resistance perspective, we have two key levels. Immediately below we have the blue dashed line which is acting as a platform just below the VPOC and above we have the red dashed line of resistance at $26.50 which has already been tested.
The issue at present is the clear weakness of the past few days with the market attempting to rally on good volume, but the candles closing with a wick to the upper body as it did yesterday and on Thursday last week. Not great signs! However, for the present, the platform of support has held firm and if it continues to do so may provide the springboard for a further attempt at $26.50 per ounce, and if this is breached we have a low volume node ahead to help silver back to $27.50 in the medium term which is what I am expecting, but as always this will be dependant on volume. We need to see the buyers return and support any move higher.
Disclaimer: Futures, stocks, and spot currency trading have large potential rewards, but also large potential risk. You must be aware of the risks and be willing to accept them in order to invest in ...
more