Where Next For Oil, Assuming The Blockage In The Suez Canal Can Be Cleared!
(Click on image to enlarge)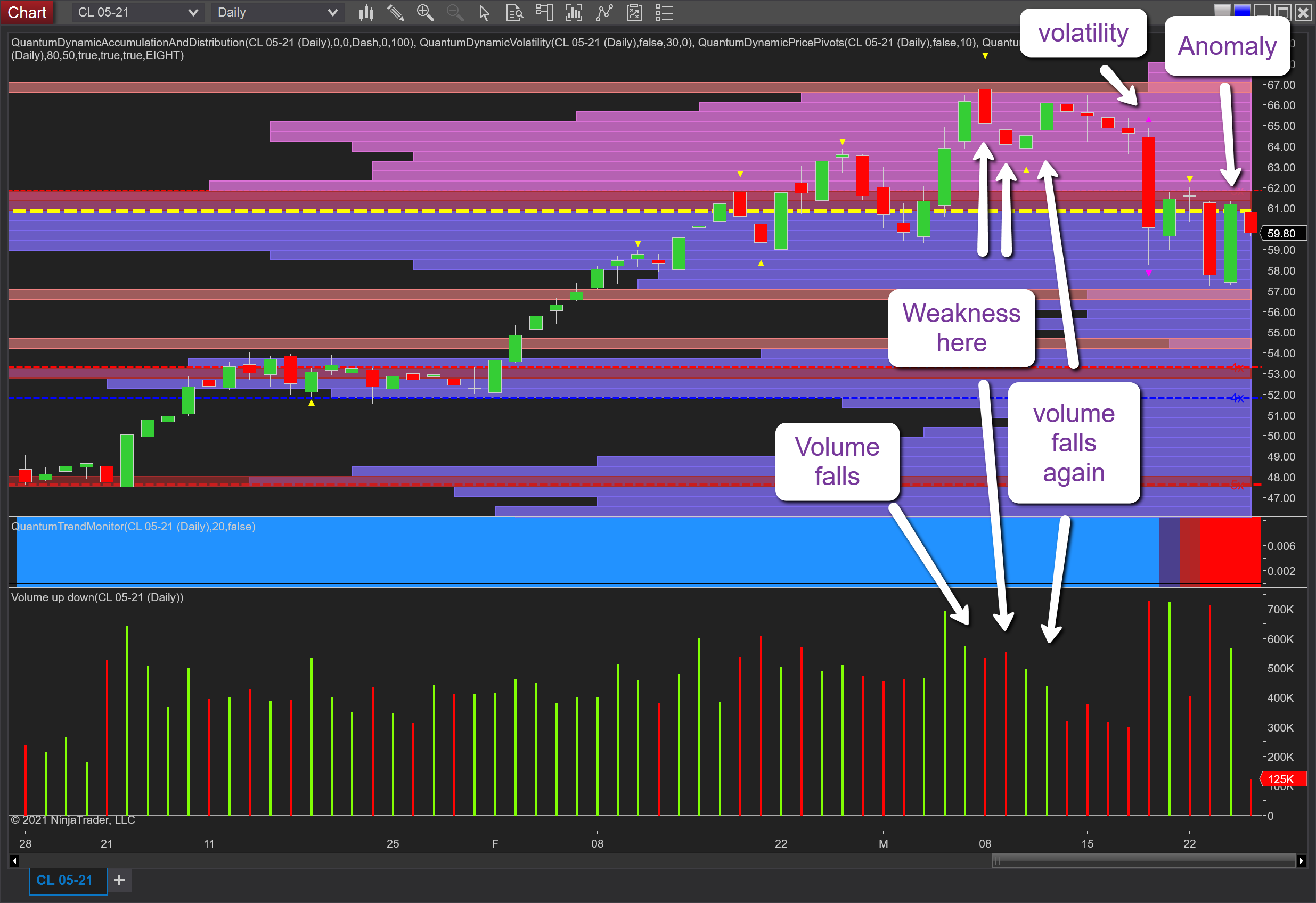 As outlined in several posts over the last few weeks, from a technical perspective oil looks to have reached its zenith for the time being at the $67 per barrel region, and was unlikely to rise further owing to various key resistance levels coming into play. And of course, the volume also played a key role in this analysis so let's take a look at how this has unfolded on the daily chart. And if we start with the price action in March, note how the breakaway from the VPOC was associated with high volume but there was no follow through on the next up candle which ended the session on lower volume. The subsequent day was one of weakness with a red down candle on good volume which in addition, saw the price action test the important $67 per barrel resistance. And note how there was a further attempt to rally on two green candles on falling volume.
The next significant price action on this chart is the widespread down candle with volatility, and if you are a customer of our Quantum Trading indicators then you will appreciate the significance of this signal, where either congestion or a reversal is to be expected. The high volume associated with this candle also confirms the big operators are participating here. This is followed the next day by an up candle but consider the spread and associated volume? For this amount of effort, we would have expected to see a much greater result. Moreover, the price action is trading at the (volume point of control) VPOC and our expectation is for congestion to build and within the spread of the volatility candle. Further heavy selling then follows which was only reversed yesterday on the news of the blockage in the Suez canal, but once again consider the associated volume it is much lower than we would expect and confirms a lack of participation by the big operators and designed to draw traders in on the news.
Finally, note the trend monitor which has fully transitioned to red and confirms the bearish sentiment now in place for oil, and should we return to the $57 per barrel level, a sharp quick move to $54 per barrel is likely given occur the lack of both price and volume-based support in this area.
Disclaimer: Futures, stocks, and spot currency trading have large potential rewards, but also large potential risk. You must be aware of the risks and be willing to accept them in order to invest in ...
more