What Skyrocketing Home Prices Say About Inflation
Inflation isn't an equal opportunity offender. In any given year, it can rear its ugly head intensely in some sectors while leaving others relatively unscathed.
That makes attaining inflation protection a tricky proposition for investors. Diversification can be key to making a portfolio resilient to rising price levels in the economy.
Precious Metals vs. Real Estate
Owning tangible assets including real estate can certainly help investors weather an inflationary storm. But banking heavily on home price appreciation can also be risky – as all too many homeowners found out during the great financial crisis of 2008.
Even during boom times, a home can turn into a money pit.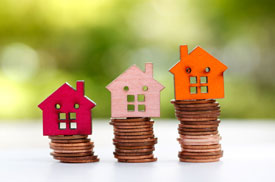 Paint fades. Pipes corrode. Windows leak. Kitchens become outdated. Virtually everything that makes up a home's finishes, from the flooring to the roofing, needs to be repaired or replaced (sometimes multiple times) over the course of its life.
Add to that financing and closing costs (mortgage interest and fees) plus property taxes, insurance payments, and homeowner's association expenses (which can rise with inflation), and a home's nominal price appreciation over time can easily be eaten away by all the associated ownership costs.
By comparison, the costs of acquiring and owning physical precious metals are minimal.
An ounce of gold never corrodes or requires any upkeep. It doesn't trigger annual property taxes or other fees to third parties (except perhaps a small storage fee if held in a secure vault).
Precious metals are fungible and trade in liquid markets based on globally recognized spot prices.
Buying and selling is quick and easy.
Prices for most ordinary bullion products range within modest premiums over the spot and can be sold back to dealers similarly close to spot based on prevailing bid/ask spreads.
A house is individually unique, with its value dependent on factors particular to its features, condition, and location.
Disclaimer: Money Metals Exchange and its staff do not act as personal investment advisors. Nor do we advise about or advocate the purchase or sale of any regulated security, listed on any ...
more