What Do You Want, Mr. Gold?
Barrick wants to buy Newmont. Trump wants a deal with China. Palladium wants to fly into space. And what does gold want?
Will Barrick and Newmont Create Gold Monster?
Do you remember our January 24, 2019 edition of the Gold News Monitor? We analyzed in that report the historic transaction in the bullion industry, i.e. the Newmont Mining's purchase of Goldcorp, which will create the world's largest gold miner. Forget it!
Today, we have something better for you. Yesterday, Barrick Gold Corporation, which is the largest gold mining company, announced that it has made a proposal to the Newmont Mining Corporation, the second-largest gold producer, to merge. The proposal assumes that each Newmont shareholder would receive 2.5694 Barrick shares per Newmont share, so the value of the proposed acquisition is at around $18 billion. So far, it seems that Newmont shareholders received the news about the proposal much better than Barrick's shareholders – just look at the stock market price reactions displayed in the chart below.
Chart 1: Barrick's stock price return (blue line) and Newmont's stock price return (orange line) over the last month.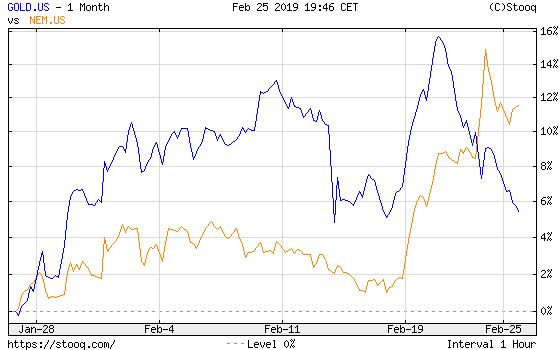 The combination of the two would create "the world's best gold company, with unprecedented potential for value creation" and "the largest portfolio of Tier One gold assets", according to the Barrick. The merged company would have revenues of approximately $15.6 billion, total gold reserves of 141 million ounces and a market capitalization at almost $52 billion, based on today's share prices, more than three times larger than Franco Nevada, its nearest rival. What a golden beast!
However, nobody knows whether the deal comes to fruition. It is conditional on Newmont scrapping the deal to buy Goldcorp. And Newmont's top team seems to be skeptical, describing Barrick's proposal as "desperate and bizarre." In a statement published yesterday, the company said:
If you enjoyed the above analysis and would you like to know more about the most important macroeconomic factors influencing the U.S. dollar value and the price of gold, we invite you to read the ...
more