Whale Accumulation Sends Bitcoin Above $19,000 As Gold Tumbles
For the first time since 2017, Bitcoin price pushed above $19,000, and multiple indicators suggest the rally may continue. There's less good news for lovers of more traditional economic-curmudgeon plays with gold dropping for a second day to trade at $1,815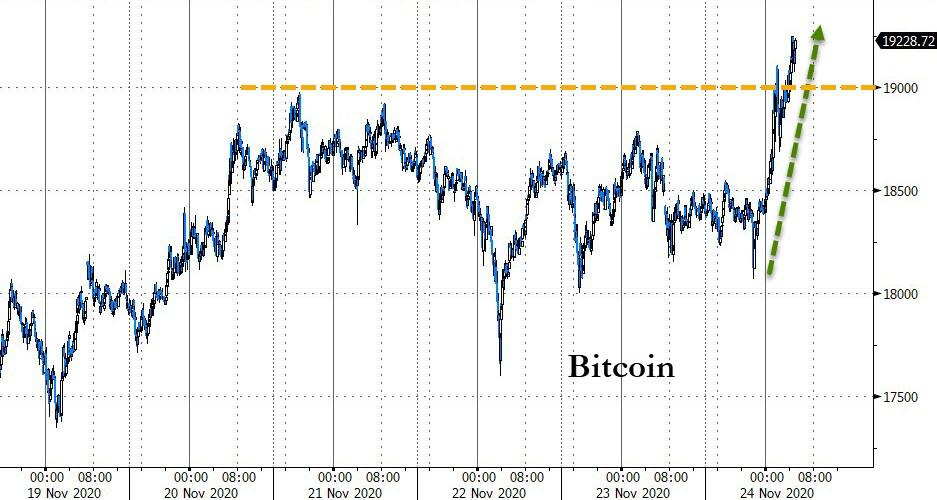 Source: Bloomberg
Within $400 of the record high from Dec 2017...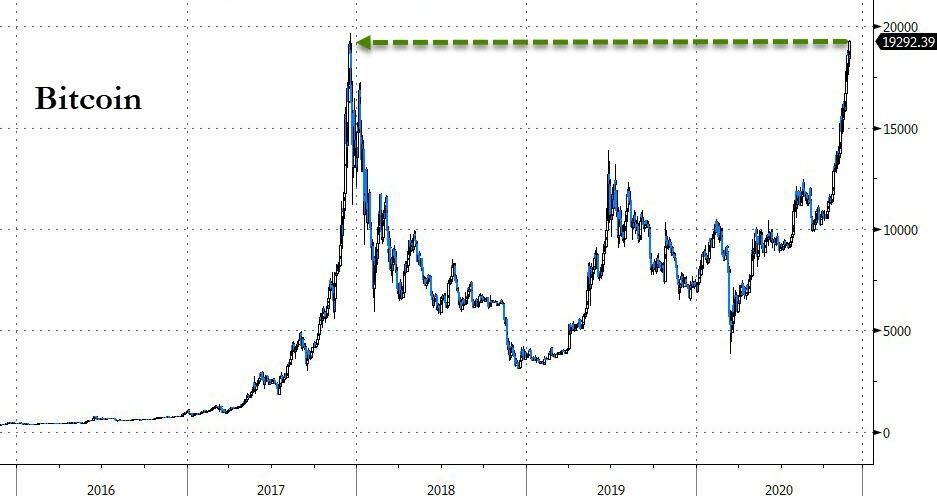 Source: Bloomberg
Ethereum is steady today after yesterday's surge as Eth2's beacon chain genesis has been confirmed for Dec. 1 following the transfer of 524,288 Ether (ETH) from 16,384 validators into the Eth2 deposit contract since it went live on Nov. 4.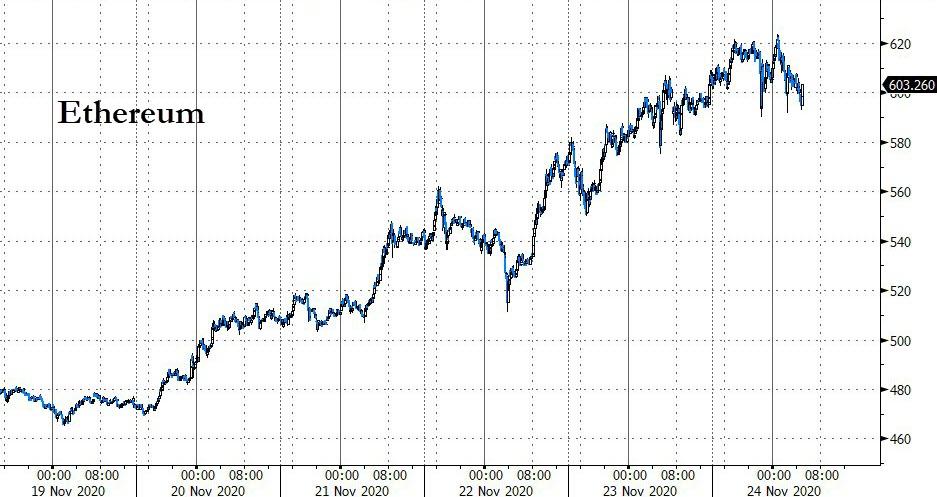 Source: Bloomberg
Bitcoin bounced off support versus Ethereum...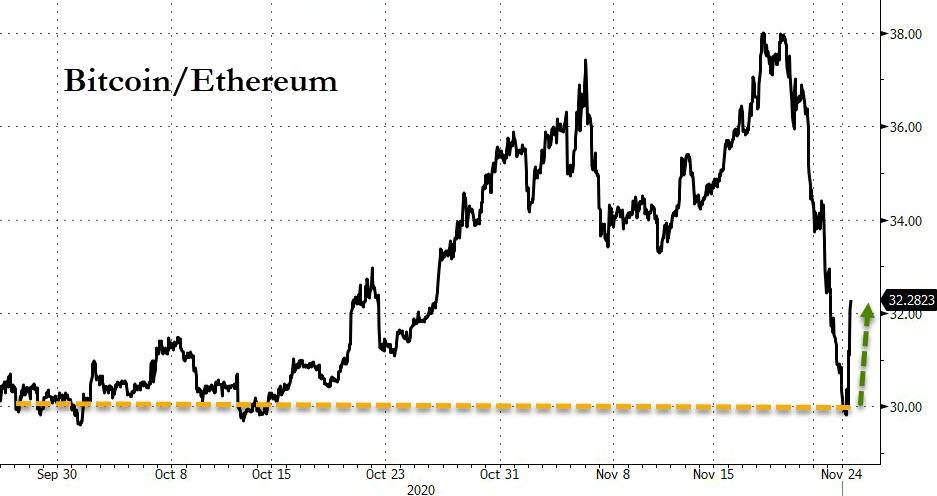 Source: Bloomberg
CoinTelegraph's Ray Salmond points out that the main factors buoying BTC's ongoing rally is whale accumulation, decreasing exchange supply, and explosive volume trends.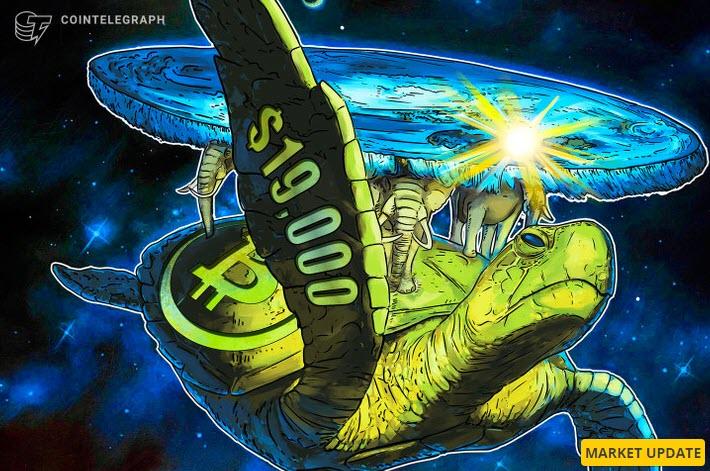 image courtesy of CoinTelegraph
Whales are still accumulating Bitcoin
All throughout November, Cointelegraph reported that whale clusters were steadily forming as the price of Bitcoin rallied.
These clusters emerge when Bitcoin whales buy BTC at a certain price point and do not move them. Analysts have interpreted this as a signal that whales are accumulating and that they have no intention of selling in the near term.
The difference between the ongoing Bitcoin rally and previous price cycles is that the recent uptrend has proven to be more sustainable. In fact, each whale cluster shows that every major support level BTC reclaimed was accompanied by whale accumulation.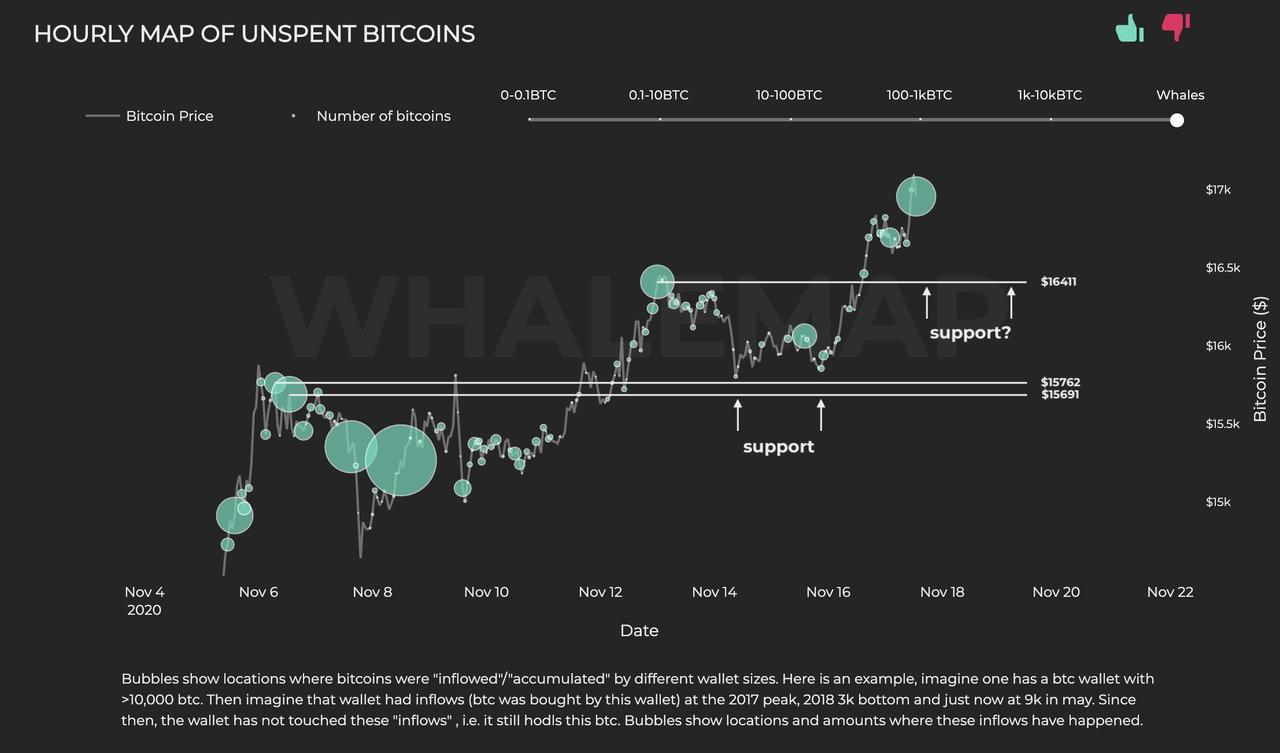 Unspent Bitcoins at each whale cluster. Source: Whalemap
On Nov. 18, when Bitcoin dropped to as low as $17,200, analysts at Whalemap said that the new whale support is located at $16,411. They said:
"Bubbles indicate prices at which whales have purchased BTC that they are currently holding. Bubbles also visualize support levels. Last time we bounced from $15,762 and had a 15% price increase. Is the new bubble at $16,411 going to hold this time as well?"
Disclosure: Copyright ©2009-2020 ZeroHedge.com/ABC Media, LTD; All Rights Reserved. Zero Hedge is intended for Mature Audiences. Familiarize yourself with our legal and use policies ...
more