Weekly Fundamental Gold Price Forecast: The Tides Have Turned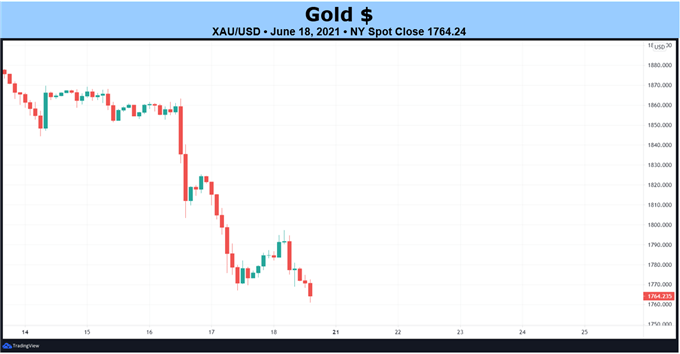 WEEKLY FUNDAMENTAL GOLD PRICE FORECAST: BEARISH
Tough sledding ahead for gold prices as the sea change in fundamentals coincided with a significant technical breakdown.
A quieter economic calendar may deprive gold prices of a needed catalyst to shift the burgeoning narrative.
The IG Client Sentiment Index suggests that gold prices in USD-terms (XAU/USD) may struggle in the days ahead.
GOLD PRICES WEEK IN REVIEW
Gold prices tend to benefit during periods of loose monetary policy and expansive fiscal policy. However it appears that one of those legs may have been kicked out over the past few days. The Federal Reserve's June policy meeting resulted in an accelerated timeline of withdrawal of monetary stimulus efforts, seemingly dragging forward rate hike expectations and implicitly the taper line. With inflation expectations pulling back across the board, gold's appeal as the mythical inflation hedge has been seemingly hampered.
Even though global bond yields at the long end of the curve have started to pull back, it remains the case that inflation expectations are dropping faster, which has created a churn higher in real yields. Assets that don't generate real returns (for example , cashflows dividends coupon payments ) tend to suffer during periods of rising real yields; gold checks this box.
Gold prices fell across the board last week on the back of a resurgent DXY Index: gold in USD-terms (XAU/USD) plunged by -6.05%.But it wasn't just gold in USD-terms; gold in EUR-terms (XAU/EUR) dropped by -4.08%; gold in GBP-terms (XAU/GBP) contracted -3.98%; and gold in JPY-terms (XAU/JPY) sank by -5.58%.
GOLD'S SHIFTING FUNDAMENTALS
The June Fed meeting helped enshrine the narrative that the US economy is regaining its long-term economic potential – and that recent hot inflation readings are destined to cool off. Gold prices have since entered a window of time where US real yields have begun to rise. Shifts in the US Treasury yield curve, on balance, suggesting a period with stronger short- and intermediate-term rates, has been consistent with a stronger US Dollar. As things stand now, it's once again an uphill climb for gold prices as investors seeking higher yielding and more growth-sensitive assets.