Weekly Fundamental Gold Price Forecast: Can You Trust The Rebound In XAU/USD?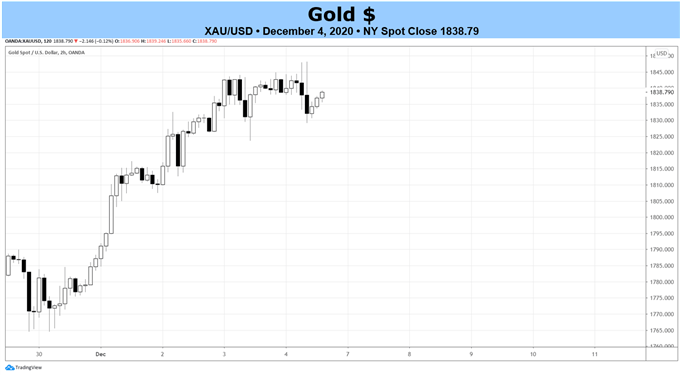 WEEKLY FUNDAMENTAL GOLD PRICE FORECAST: NEUTRAL
Gold prices in USD-terms have rallied sharply this week, but gold's gains lagged elsewhere. Thanks in part to US stimulus talks, US Dollar weakness is masking gold's own bearish underlying fundamentals.
Rally this week or not, there has been a material regime change in the fundamental narrative for gold prices (regardless of which currency you're trading against gold).
The IG Client Sentiment Index suggests that gold prices in USD-terms (XAU/USD) may continue their brief rebound.
GOLD PRICES WEEK IN REVIEW
Following weeks of onslaught, gold prices were able to climb their way out of the proverbial cellar. Once again, gold in USD-terms (XAU/USD) was the best performing gold pair, which added +2.88% (a stark contrast to last week, when it was the best performing pair, falling by -4.49%). Gains were consistent across the board, with all gold pairs rising. But let's be clear: the gains this week pale in comparison to the losses seen in the final week of November, when five of the seven major gold pairs lost at least -5%.
To suggest that the rebound in gold prices is one that can be trusted requires an active imagination at this point in time. That's not to say that gold prices can't or haven't bottomed – but the fundamental narrative has not reversed in a material way to think that the worst is over for bullion. If anything, choppy conditions may be emerging.
GOLD'S SEISMIC SHIFT IN FUNDAMENTALS
'Not too hot, not too cold – just right.' That's the exact opposite is the case for gold prices at present time. With COVID-19 vaccine development and distribution beginning to get started, the US economy is regaining its long-term economic potential. Fiscal stimulus may arise, but not to the extent had there been a 'blue wave' (though, the Georgia Senate runoffs on January 5, 2021 may change that assessment).