USDX, Gold: We May Have Reached The Top Of The Mountain
Given the negative correlation between gold and the USDX, the former should have rallied today, but it didn't. Have we reached the top with only one way out?
Let's start today's (May 25) analysis with something that's happening right now, at the moment of writing these words. The USD Index is moving lower, below the recent lows. It's currently trading at about 89.6, which means that after a few days of back-and-forth trading, it moved down once again – and (from the short-term point of view) quite visibly so.
What did gold do in response? It slid by 0.04%, which is a way of saying that it didn't do anything. It should have rallied and broken above the recent highs. It didn't, which indicates that the rally is likely over or about to be over. But let's get back to the USD Index.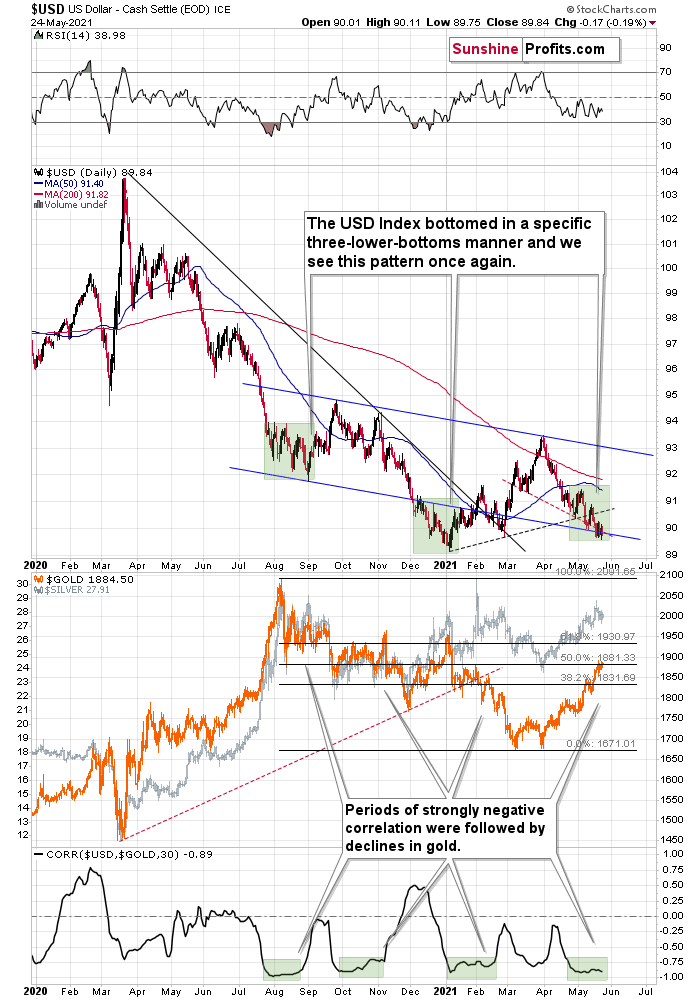 The Fight Between Gold and the USDX
Today's move lower is a continuation, and most likely the final part, of a specific multi-bottom pattern that the USD Index exhibited recently.
I marked those situations with green. The thing is that the U.S. currency first declined practically without any corrections, but at some point it started to move back and forth while making new lows. The third distinctive bottom was the final one. Interestingly, the continuous decline took place for about a month, and the back-and-forth declines took another month (approximately). In July 2020, the USDX fell like a rock, and in August it moved back and forth while still declining. In November 2020, the USDX fell like a rock (there was one exception), and in December it moved back and forth while still declining.
Ever since the final days of March, we've seen the same thing all over again. The USD Index fell like a rock in April, and in May we've seen back-and-forth movement with lower lows and lower highs.
What we see right now is the third of the distinctive lows that previously marked the end of the declines.
Disclaimer: All essays, research and information found on the Website represent the analyses and opinions of Mr. Radomski and Sunshine Profits' associates only. As such, it may prove wrong ...
more