U.S. Joins India And China In Ramping Coal Usage To Pre-Pandemic Levels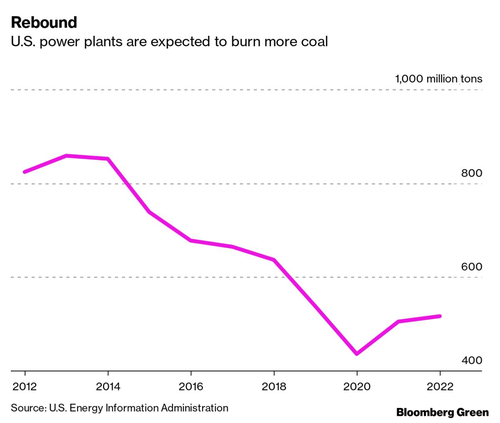 Binay Dayal, technical director of Coal India, said: "There are climate-change issues about coal, but India's energy needs won't allow it to dump the fuel instantly."
In the U.S., demand for fuel was cut by 19% due to the pandemic last year. That, coupled with roaring natural gas prices, makes for a tailwind in coal usages throughout 2021 and into 2022.
Dennis Wamsted, an analyst for the Institute for Energy Economics and Financial Analysis, still thinks the longer-term trend for coal is lower, especially as emerging markets have started to favor gas and renewables. He concluded that for the long-term: "The trend is down, down and continuing to go down."
Disclaimer: Copyright ©2009-2021 ZeroHedge.com/ABC Media, LTD; All Rights Reserved. Zero Hedge is intended for Mature Audiences. Familiarize yourself with our legal and use policies every time ...
more