US Government Stimulus Went Wrong. How Will Gold React?
Gold may benefit from government money flooding households and people less willing to work – as evidenced by the low value of nonfarm payrolls.
According to the recent BLS Employment Situation Report, total nonfarm payrolls rose by 559,000 in May, following disappointing increases of 278,000 in April, as the chart below shows. What is disturbing here is that this time the US economy also added significantly fewer jobs than expected – economists surveyed by MarketWatch forecasted 671,000 additions. Moreover, labor force participation and employment-population rates were little changed, remaining significantly below the pre-pandemic levels.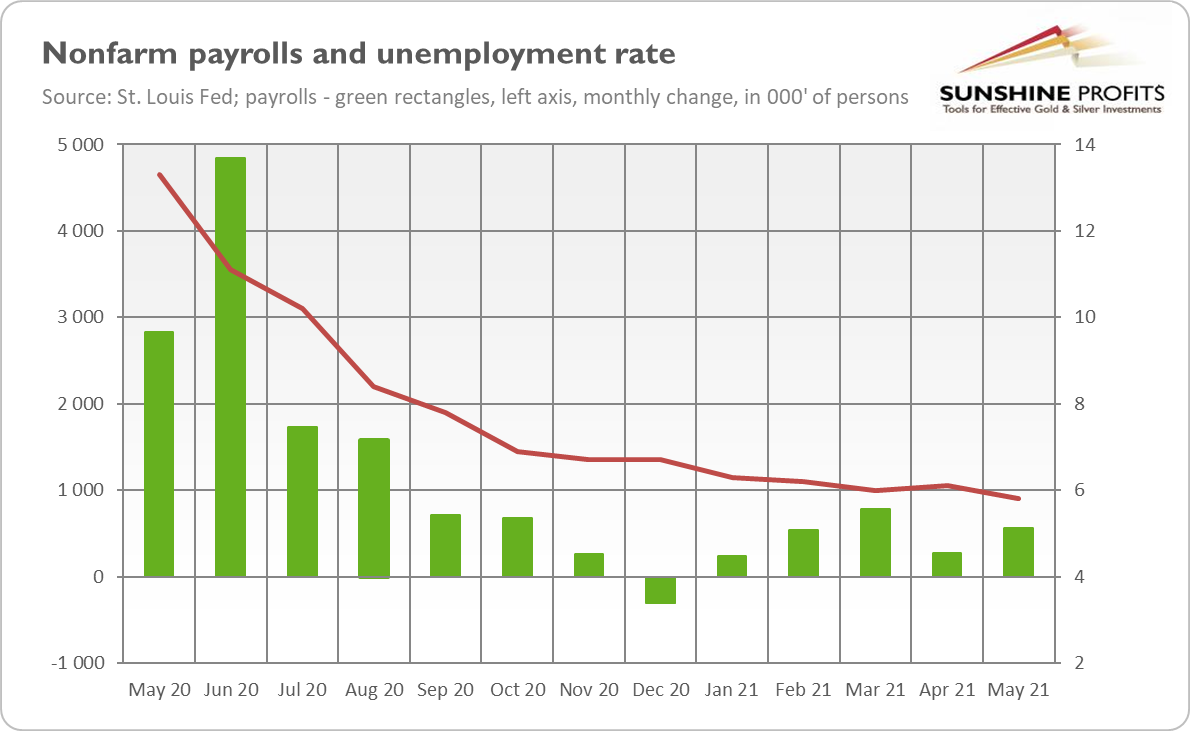 On the positive side, the unemployment rate edged down from 6.1% to 5.8%, as the chart above shows. However, even though the number of unemployed people fell considerably from its recent high in April 2020, it remains well above the level seen before the Covid-19 epidemic. In February 2020, 5.7 million Americans were without a job, while now it is 9.3 million. It means that the labor market is still far from recovery. Or, actually, given all the generous unemployment benefit supplements introduced during the pandemic, the new equilibrium unemployment rate may be simply higher than in the past.
Implications for Gold
Anyway, the new employment situation report is positive for the gold market. May nonfarm payrolls report is disappointingly weak and missed expectations for the second month in a row. It means that the April report wasn't just an accident, and the US labor market has to face some serious problems.
The sad truth is that Americans don't want to work. Even the decline in the unemployment rate was caused to a large extent by the drop in the labor participation rate, as workers just left the labor market. This fact explains why employers report worker shortages despite an army of a few million unemployed people. According to the recent Fed's Beige Book, many companies have difficulties finding new employees, so they had to boost their wages to attract candidates:
Disclaimer: Please note that the aim of the above analysis is to discuss the likely long-term impact of the featured phenomenon on the price of gold and this analysis does not indicate (nor does ...
more