Uranium Stocks Soar On GLJ Upgrade: 33% Upside Seen For Cameco
For the past three months, we have been especially constructive on the uranium sector (and its handful of beaten-down stocks), which we believe are set to benefit tremendously as the sector gets swept up in the ESG euphoria. Some of our recent observations can be found at the following links:
Then, as uranium stocks did move significantly higher in recent months as investors rekindled their love affair with a sector that had been left for dead for much of the past decade, at the start of February a TD Securities analyst said that the Reddit short squeeze crowd had started to buy into the sector as well, shortly after a BofA analyst laid out an even more bullish fundamental case, on the assumption that the US could delay the closure of its aging nuclear fleet, boosting demand over the next few decades.
(Click on image to enlarge)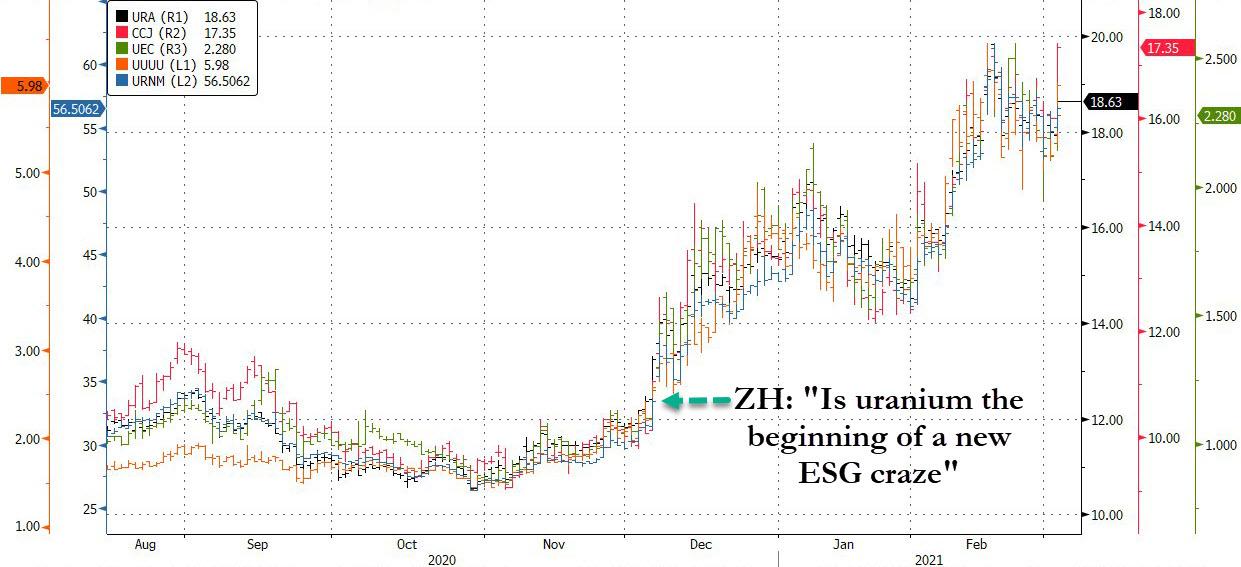 Next, the bullish uranium case was further bolstered by a lengthy tweetstorm by former hedge fund manager Hugh Hendry who said "A lot of you are invested in uranium. I commend you. I wish I was. Uranium is the rockstar of commodities. It doesn't mess around - bull and bear markets are of epic proportions."
Hendry was followed by yet another iconic hedge fund manager, who also jumped on the uranium bandwagon. In a tweet from Michael "The Big Short" Burry (who communicates with the outside world almost exclusively by Twitter with tweets that are spontaneously deleted after a few days), the hedge fund manager said that "If the government is going to spend $2 trillion, there is no better use than converting the US to nuclear. Dems can do it! Jobs +" potentially limitless electricity...no greenhouse gas emissions" #greenfuture NOW!"
Disclaimer: Copyright ©2009-2021 ZeroHedge.com/ABC Media, LTD; All Rights Reserved. Zero Hedge is intended for Mature Audiences. Familiarize yourself with our legal and use policies every time ...
more