Three Technical Reasons Oil Is Rangebound
For a longer-term perspective on crude oil, I've stepped up to the weekly chart as oil continues to congest in the $60 to $65 per barrel area as I have outlined many times in recent posts. And the reason the commodity is struggling at this level from a technical perspective is threefold. First, we have a strong level of price resistance at the $66 per barrel level and denoted with the blue dashed line of the accumulation and distribution indicator for NinjaTrader. This is a key level and one which was tested both in March and more recently earlier in May, yet it continues to remain firm. The indicator presents these levels automatically and as each failure occurs, the line thickens accordingly giving us an instant visual picture of the strength of such areas. As we can see this is strong and therefore will require effort to be breached, something we are not seeing at present which brings me to my second point. Note the volumes on the up candles when compared with activity for the same period last year, they are lackluster at best and confirm the lack of buying interest at present.
Third and last, note the volume on the VPOC histogram at the current level which is well developed and confirming not only does oil face some stiff price-based resistance but it also has to contend with volume-based resistance which increases the longer the price remains in this zone. A further reason why the price is being suppressed at this level allied to a serious lack of buying.So if oil is to be propelled through the $70 per barrel and beyond, then the buyers will have to return, something that is not evident at present.
(Click on image to enlarge)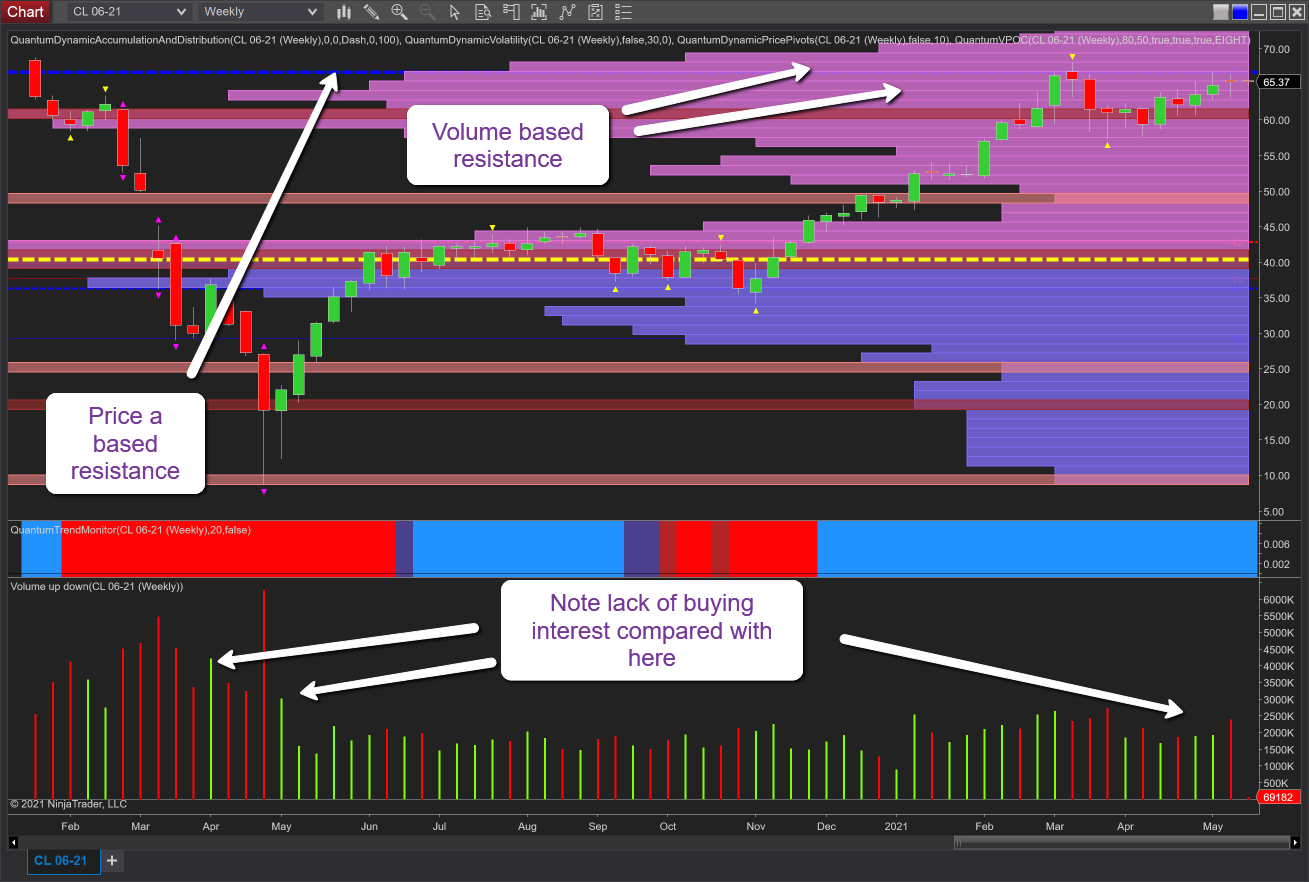 Disclaimer: Futures, stocks, and spot currency trading have large potential rewards, but also large potential risk. You must be aware of the risks and be willing to accept them in order to invest in ...
more