"Things Are Out Of Control": Supply Chain Collapse Leads To Lumber Frenzy, Soaring Home Prices
"Each part of the supply chain has different issues," Brooks Mendell, CEO of forest-supply researcher Forisk Consulting in Georgia, told Bloomberg. "There is not a sawmill that I have talked to in two years that has all their slots filled."
This is a big turnaround from just two years ago when weak in 2019 demand prompted a steady stream of output reductions and mill closures from companies including Canfor and West Fraser Timber, the world's biggest lumber supplier. That left producers flat-footed amid the unexpected demand boom as the pandemic kept people indoors, sparking a wave of do-it-yourself upgrades, full-scale renovations, and purchases of bigger homes.
It got even crazier during the winter when demand traditionally slows down but not this winter when demand held strong across, and mills didn't have time to replenish their inventories. Now, stockpiles are "extremely lean" as North America heads back into peak building season and lumber prices will stay high "for the foreseeable future," Devin Stockfish, the CEO of Weyerhaeuser Co., said last month.
As a result, lumber futures have been competing with bitcoin in the past 12 months and have more than tripled since the pandemic started, touching an all-time high of $1,157.50 per 1,000 board feet on Monday.
(Click on image to enlarge)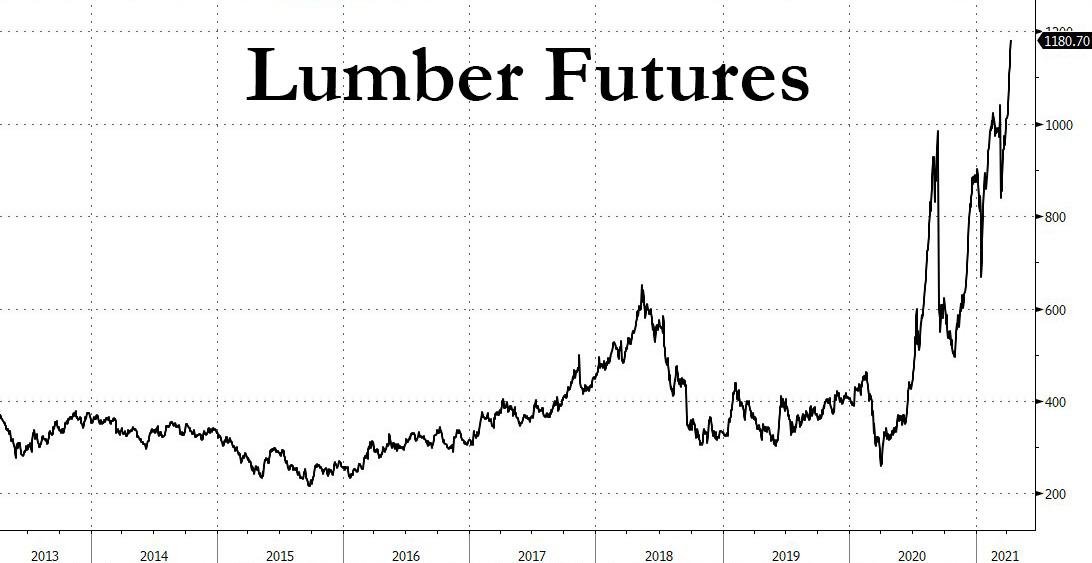 Cash markets are also blistering: Oriented strand board, used as sheathing for walls and roofs, soared to a record $999 per 1,000 square feet at the end of March, up from $329 in June, according to lumber pricing company Random Lengths.
Of course, it's not just lumber: as discussed previously, across commodities, supply chains are snarled at a time when the economic rebound is driving demand higher. While investors have backed down from some of their price optimism for now, markets with production issues are still moving higher. Coffee is a prime example, with signs that a global deficit is widening. Meanwhile, dwindling rubber supplies are causing headaches for automakers.
Disclaimer: Copyright ©2009-2021 ZeroHedge.com/ABC Media, LTD; All Rights Reserved. Zero Hedge is intended for Mature Audiences. Familiarize yourself with our legal and use policies every time ...
more