The Silver Roadmap
There's no consensus on whether silver is in its second or third secular bull market since the 1970s. That's because people define bull markets in different ways.
But as I'll show you, it's not that important.
What we do know is that silver enjoyed a huge bull market from about 1971 until 1980, and then another major bull run from about 2001 until 2011.
Most secular bull markets run through a period, usually about half-ways on the time scale, where the commodity's price falls by about 50%, sometimes more. This is an observation by the legendary commodities investor Jim Rogers.
In my own experience that's in fact often the case, although sometimes the price correction is less severe if it's drawn out over a longer time. Corrections are typically short and deep, or long and shallow. There is no rule, and it's never the same.
Let's dig into these previous bull markets to give us an idea of how silver has behaved. This will provide somewhat of a roadmap for what may lie ahead. Spoiler alert: looking back on how silver performed in the past points to much bigger gains ahead.
Past Is Prologue: Silver Bull Markets
In the 1970s silver rose from a low near $1.40 in 1971 to peak at $49 in 1980. That produced a whopping 36 times return or 3,600%. Every $1,000 became $36,000.
Then, silver eventually bottomed in 2001 at $4.20, before rising all the way back to $49 in 2011. Investors who had positioned themselves early enjoyed a 1,160% return.
Now let's dissect both of these bull markets in more detail because understanding how they behave can help you better prepare. As you'll see, silver is volatile. But if you want to benefit from its big gains, you have to be willing to hold on through what is sometimes a wild ride.
As I said, silver bottomed near $1.31 in October 1971. That's when its 1970s secular bull market began.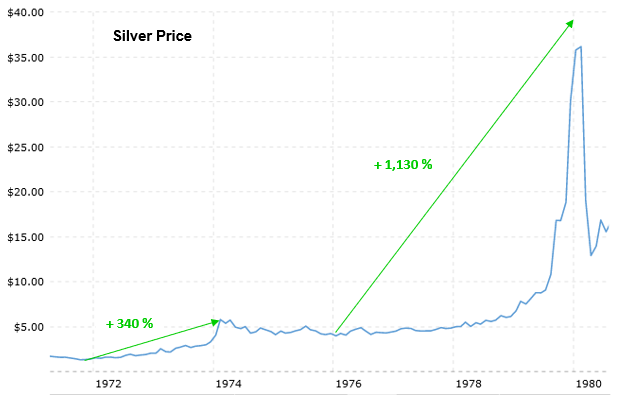 It then peaked at $5.78 in February 1974. That was a 340% gain in less than 3½ years. But then silver started to lose ground.
Disclosure: I own shares in SIL.