E

The Price Of Gold Will Not Surpass Its 1980 Peak
When gold's price reached $850 per ounce in January 1980, it seemed as if nothing would stop the runaway train that was headed straight for $1000 per ounce. But it was stopped, and began sliding downhill quickly.
By June 1982, two and one-half years later, gold's price had declined by sixty-five percent. At close to $300 per ounce, the price of gold seemed farther away from the $1000 mark than ever before.
At $300 per ounce, the eventual low for gold of $250 was a short distance away. But that downside price did not come until seventeen years later, in late 1999. As far as $1000 gold is concerned, that did not occur until September 2009, almost thirty years after gold peaked at $850 in January 1980.
After that gold's price continued higher to almost $1900 in August 2011. Since then, gold's price has declined to $1050 in December 2015 and then retraced some of that decline back up to over $1500 per ounce. Currently the price of gold is at $1460 per ounce.
Below is a chart showing a one-hundred year history of the gold price including the past forty years (1980-2019) which are summarized above...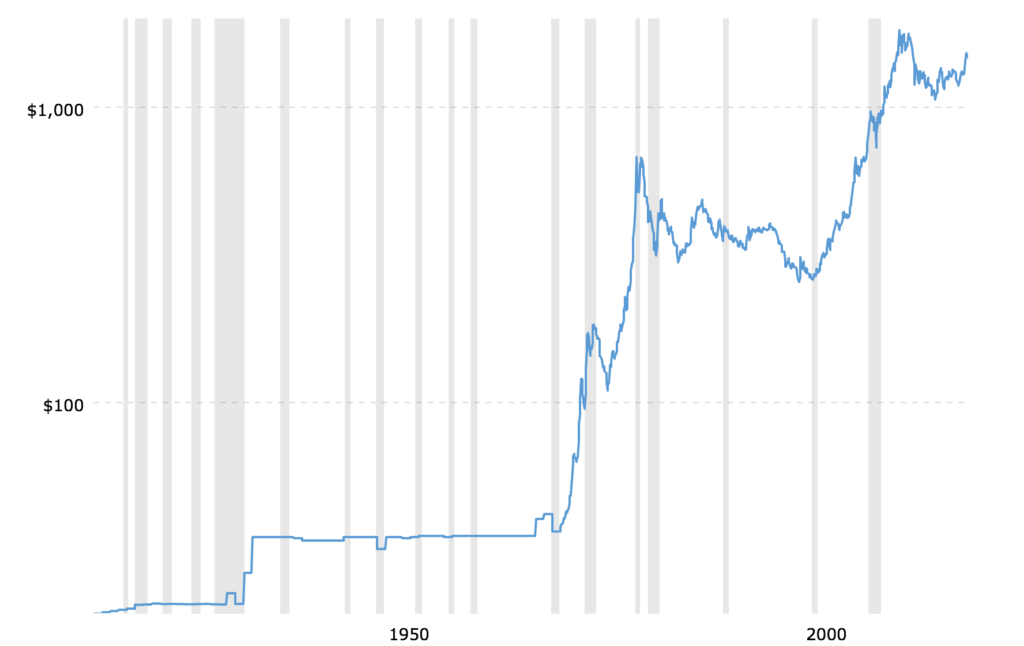 Looking at the chart, it would appear that gold's price is in a prolonged uptrend that continues to provide positive results for long-term holders of gold who exercise patience. In real terms, however, the chart is quite deceptive.
Here is another chart of the same history. This one is adjusted for the effects of inflation...
As can be seen clearly in the second chart, gold did not make a new high in 2011. Its price in inflation-adjusted dollars topped out just below its peak in 1980. Not only that, but in inflation-adjusted terms, gold's peak intra-day price in 2011 was twenty-two percent lower than its peak intra-day price in 1980.
In other words, gold at $1900 per ounce in August 2011 represented a loss in purchasing power of more than one-fifth from its high of $850 per ounce in January 1980. Because gold has declined further since 2011, that loss in purchasing power has ballooned to almost one-half.