The Next Key Level For Gold
Gold rallied last week toward the top of a down-trending channel that has been in force since prices peaked last summer.
A breakout attempt in early January failed. The gold market subsequently slumped to a potential double-bottom low in March around $1,675/oz.
The $1,800 level now looms as a critical technical juncture.
The recent bounce could either fail around there… or gather the strength to finally break out of the multi-month corrective phase.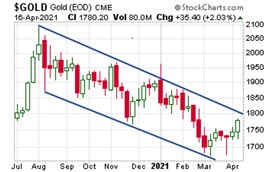 A strong push above $1,800 (confirmed by a weekly close) would carry hugely bullish implications for the remainder of the spring. New all-time highs could soon be in sight.
Bearish traders, though, will be eyeing lower levels if resistance kicks in and triggers a sell-off.
Either scenario could play out in the near term. However, the bullish scenario does have a few things going for it.
For one, the gold market appears overdue for a period of seasonal strength after suffering an unusually bad first quarter.
Gold prices may also be due to play catch-up to palladium, copper, and other outperforming metals.
Gathering strength in the mining sector in recent weeks suggests investors there anticipate firmer gold prices.
What's bullish for gold is typically super-bullish for silver. Silver bulls are watching for a move above $27.00/oz to establish a breakout above the March high.
Is a Silver Raid Coming?
Some internet chatter is pointing to April 20th as a day for a "silver raid" – massive physical buying of bullion that depletes available inventories and pressures large institutional short sellers to capitulate.
It is difficult to gauge what impact, if any, this campaign will have on bullion availability or actual spot prices. The paper market for silver typically doesn't react, at least not immediately, to developments in the bullion market.
That said, some internet-sourced campaigns have proven quite impactful on markets this year.
For example, The WallStreetBets community directly fueled a spike in Gamestop and other targeted stocks. And the once-obscure joke of a cryptocurrency called Dogecoin got "memed" back into relevance – to the tune of over $40 billion in market value.
Disclaimer: Money Metals Exchange and its staff do not act as personal investment advisors. Nor do we advise about or advocate the purchase or sale of any regulated security, listed on any ...
more