The Natural Gas Vs. Oil Trade Long UNG/Short USO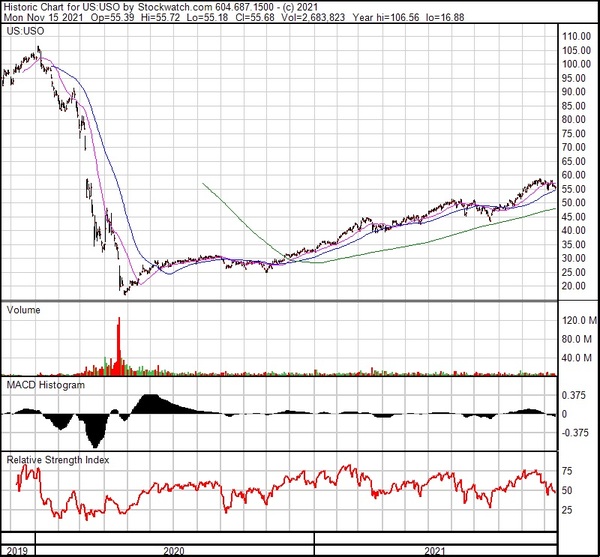 On Monday this week, I gave a trade idea for the winter–be long the US Natural Gas Fund ETF, symbol UNG-NYSE (closing $16.79 that day), and short the US Oil Fund, symbol USO (closing $56.07 that day).
Now don't get incredulous that this trade idea is a straight up short oil. It's just a bet that natgas does better than oil–especially until the middle of January, but quite possibly through the winter.
The reason I pick mid-January is because of COVID. I subscribe to a research service that has been uncannily accurate in giving pivot dates for the peak of the COVID waves–and the next one (says my guru) is mid-January.
This week, the trade has worked out. UNG-NYSE is down only pennies, but USO-NYSE is down $2.29/unit. And the reason oil fell this week: Europe starting to shut down again in several places due to COVID. I'll explain it all in a bit more detail below, but the other side of the trade–long natgas–is a bit more fundamentally driven.
Only months ago, I never thought I would say this: The market is too bearish on natural gas.
Let that sink in for a minute…
I know what you are saying: Wait – how can that be? Natural gas prices are just under $5+ right now. Prices are higher than they have been in years.
How can this be bearish?
Well, the focus is all on the front-month contract. That is not the whole story.
Looking further out the curve, you can see the pessimism. It is called backwardation.
Backwardation means that the future price of each month out is less than the previous one.
Source: CME Group
The backwardation in natural gas right now is steep. While the prompt month (Dec 2021) is trading at $5.06, May 2022 is actually below $4.
The market is saying "sure, you might get your cold winter but it will end and prices are coming back down".
It is that sort of pessimism that could give us a 20% on the United States Natural Gas Fund (UNG – NYSE) if gas even just stays at this level and the curve rolls out.
But I have one worry with this trade. The economy.
To hedge that bet, I am suggesting a pair trade – long UNG and short the United States Oil Fund (USO – NYSE). This is not a bet against oil–just that natgas does better than oil.
Disclaimer: Like to learn more about relative strength methodology? Our most recent free training material can be found more