The Gold Market In 2019
However, in May, the yield curve has become even more inverted, which triggered recessionary fears and pushed investors to expect a more dovish actions from the Fed. And indeed, the U.S. central bank started to signal more accommodative stance and even cut the federal funds rate three times. But precious metals investors bought the rumor and sold the fact, as the price of the yellow metal started to decline since early September, amid the interest rates cuts. They could have also hoped for the lengthy cutting cycle, but the Fed decided to deliver only "mid-cycle adjustment" instead.
Let's not forget about the greenback and the U.S. real interest rates - two of the most important drivers of the gold prices. As one can see in the chart below, the dollar index, which measures the strength of the American currency against its peers, reached a local peak at the end of May, when gold started its rally.
(Click on image to enlarge)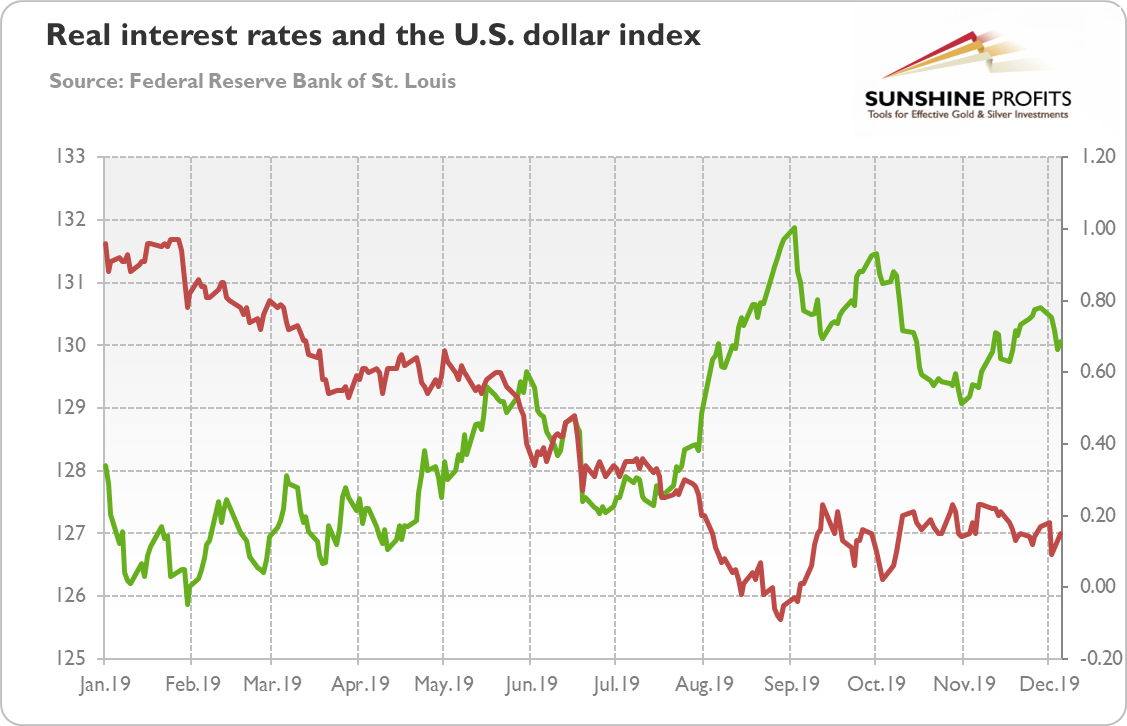 Chart 2: The U.S. real interest rates (red line, right axis, yields on 10-year Treasury Inflation-Indexed Security) and the U.S. dollar index (green line, left axis, Trade Weighted Broad U.S. Dollar Index) in 2019.
The real yields were also important, as they bottomed out around the beginning of September when the price of the yellow metal reached its 2019 peak. What is interesting is that gold peaked together with the U.S. dollar, which suggests that both were considered as safe havens during elevated worries about recession. The increase in the interest rates since then pushed gold prices lower, despite the depreciation of the U.S. dollar.
And what about 2020 - will gold soar even more, shifting up a gear, or will it decelerate, after a good year? Well, nobody knows this for sure. But what we know is that - unless the next economic crisis arrives - the U.S. central banks is likely to remain neutral (or to slash interest rates once, according to the CME FedWatch Tool). Given the Fed cut interest rates three times in 2019, it implies that the monetary policy will be less supportive for gold prices. Moreover, the federal deficit is going to increase, which should lift the Treasury yields, putting downward pressure on the yellow metal. Last but not least, the reached "phase one" trade deal and the triumph of Conservatives in the British parliamentary elections mean that the uncertainty over the trade wars and Brexit should diminish.
If you enjoyed the above analysis and would you like to know more about the most important macroeconomic factors influencing the U.S. dollar value and the price of gold, we invite you to read the ...
more