The Commodities Feed: Fuel Oil Cracks Continue To Strengthen
Source :Flickr
3.5% FOB Rotterdam barge fuel oil crack (US$/bbl)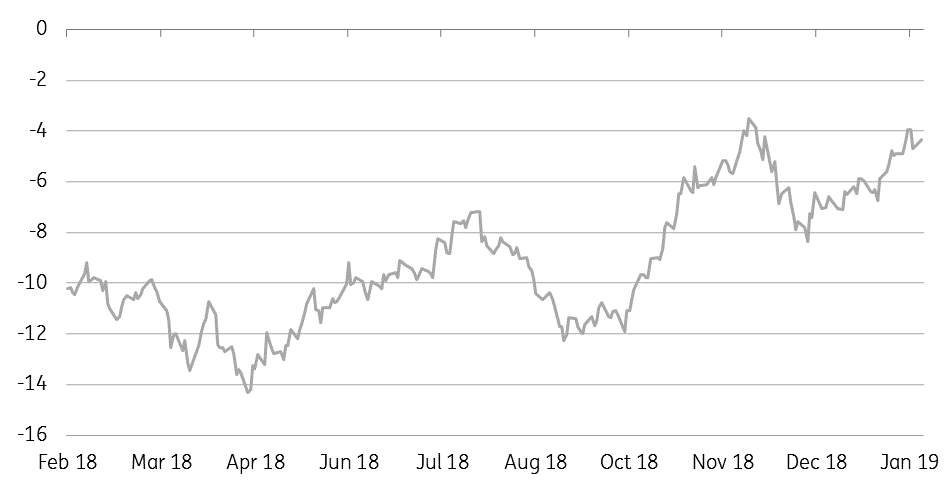 Source: Bloomberg, ING Research
Energy
US crude oil inventories: The API is set to release its weekly inventory numbers later today, and the market is expecting that US crude oil inventories increased by 1.5MMbbls over the last week, according to a Bloomberg survey. The Saudis in recent weeks have reduced flows to the US, something that is likely to continue moving forward. EIA data released last week showed that weekly US imports from the Kingdom fell by 528Mbbls/d week-on-week to 422Mbbls/d- the lowest weekly number since October 2017. Despite this, the EIA last week still reported a small build in US inventories. For products this week, expectations are for a 1.5MMbbls build in gasoline stocks, whilst distillate fuel oil inventories are expected to decline by 2.25MMbbls.
Fuel oil cracks stronger: The 3.5% FOB Rotterdam barge fuel oil crack has continued to strengthen, with the crack trading to a discount of just US$4.35/bbl, and this compares to a discount of around US$7/bbl at the start of the year. The strength in the crack appears to be driven by an open arbitrage into Asia. According to PJK International, fuel oil inventories in the ARA region have fallen from almost 1.5mt in early January to below 950kt as of last week.
Metals
Further iron ore disruptions: Vale has suspended some operations at its Brucutu mine to comply with a court order to improve safety measures at the mine; the mine halt could impact 30mtpa of iron ore supply if Vale is unable to successfully appeal the decision. This additional disruption is on top of the initial 40mtpa of closures that Vale previously announced. Although the previously announced 40mtpa cut is largely expected to be offset with production from elsewhere. Given the growing uncertainty around Brazilian iron ore supply and prospects for a much tighter than anticipated market, prices are likely to remain well supported moving forward.
Disclaimer: This publication has been prepared by ING solely for information purposes irrespective of a particular user's means, financial situation or investment objectives. The information does ...
more