The Bull Market In Oil Nobody Is Appreciating
The U.S. has more light crude than it can handle.
(Click on image to enlarge)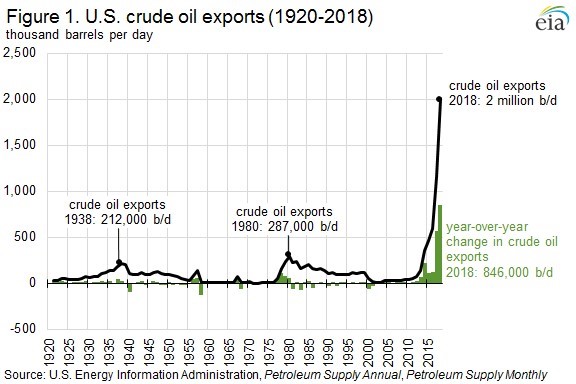 America is producing the wrong kind of oil right now. The Shale Boom is all about a very light sweet crude. Light oil produces gasoline really well, but not diesel, distillates and lower quality products that fuel the world outside of Western Europe and North America.
It is heavy oil where all of the market fundamentals are coming together – for both supply and demand.
So on the demand side, refiners along the Gulf Coast and in the Midwest invested billions of dollars in cokers and other heavy-oil processing units over the past three decades – in anticipation that supplies of light oil would become scarce while heavy crude from Canada's oil sands, Venezuela and Mexico would grow.
Instead, the opposite occurred.
More than half of the world's heavy crude is processed in the United States and with Trump sanction on Venezuelan oil, the scramble is on to get heavy oil feedstock.
IS THIS ISSUE SHORT TERM, OR LONG TERM?
There is no question what is going to be happening in the shorter term.
The scramble is on for heavy oil. There is no fix for Venezuela and the lack of pipelines means that there is no increase coming from Canada. The Saudis seem very intent on keeping production curtailed as well.
Longer term demand for heavy oil is also bullish as emerging economies (where future oil demand growth will come from) are increasingly in need of diesel fuel for trucking and heavy machinery. Refiners in those countries have invested heavily to process heavy and not light oil.
One complication to the longer term heavy crude bull story are the new International Maritime Organization (IMO) specifications for ocean-going ship fuel that will take effect next year. The rule cuts the allowed sulfur content of ship fuels, making most heavy oil grades useless as a fuel option for those vessels that don't have scrubbers.
This could be a disruptive event and I've seen estimates of demand for heavy oil falling by as much as 1.5 million barrels per day because of it.
Disclaimer: Under no circumstances should any material in this site be construed as an ...
more