The Bull Market In Oil Nobody Is Appreciating
(Click on image to enlarge)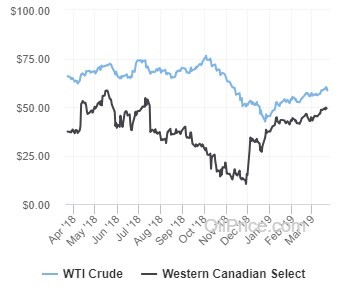 The Canadian heavy crude price known as Western Canadian Select (WCS) is now trading at a $9 discount to WTI and has been as low as $7 in recent weeks. That is the lowest discount to WTI in a decade and not large enough to cover the cost to get WCS to the U.S. Gulf Coast refiners.
At the Gulf Coast WCS is actually being priced above the lighter, superior quality WTI. Refiners who aren't able to process WTI light oil need WCS so they have to pay more to get it with supply constrained.
The single-digit discount is down from as much as US$50/b in October 2018. This huge run in heavy oil prices has barely been reflected in Canadian heavy oil stocks; fundamentally they are now cash cows but the stocks are being treated as dead cows. (I just bought small positions in two, to add to a third I've owned since just before Christmas.)
WHY IS THIS HAPPENING?
The available supply of heavy crude has plummeted of late.
Venezuela is falling apart and so is the country's oil production (which is all heavy oil). Production is down 1 million barrels per day from 2015's level of 2.4 million barrels per day with the rate of decrease accelerating in 2018.
(Click on image to enlarge)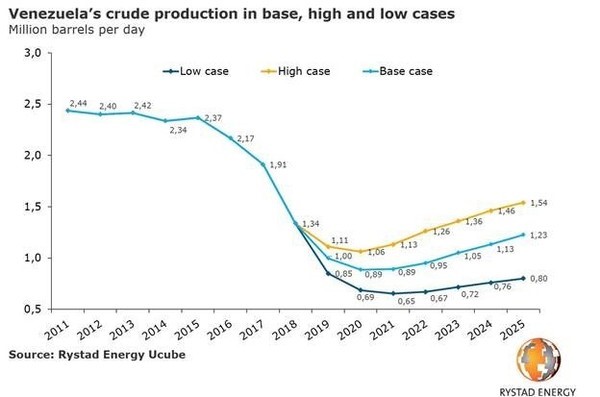 Recent sanctions by President Trump on U.S. entities purchasing Venezuelan crude are now another supply constraint on top of the production decline.In fact, just this past week, Venezuelan imports into the US were ZERO for the first time in a very long time.
There is no magic switch to flip to bring this production back any time soon.
US President Trump's decision to re-impose sanctions on Iran has also shrunk Middle East supplies, most of which are of "medium-sour" quality which is heavier than light crudes. Plus Saudi Arabia throttling back production makes the supply situation even tighter.
The Alberta Government mandated production cutbacks are contributing too.
Why this matters… Gulf Coast refiners need heavy oil and not the oil produced from shale. That is why U.S. oil exports are surging; the US refiners fitted to handle light crude already have more than enough.
Disclaimer: Under no circumstances should any material in this site be construed as an ...
more