The Bitcoin-Meme Stock Relationship Breaks Down
Bitcoin broke above $40,000 for the first time in weeks on Monday.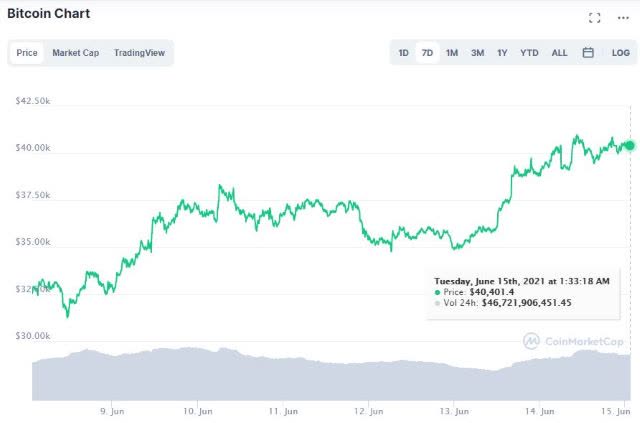 The Bitcoin-Meme Stock Relationship Breaks
An observation we've made in previous posts (e.g., AMC: Return Of The Meme Stock) was that the resurgence in meme stocks came as Bitcoin sagged. That made sense, as the previous rally in Bitcoin and other cryptocurrencies, had siphoned some of the speculative fervor out of meme stocks. On Monday, though, that relationship broke down: Bitcoin and one of the hottest recent meme stocks, AMC, were both up double digits.
Another Chance To Be Right
You could see that in the performance of our top ten names cohort from June 4th on Monday. We mentioned that cohort in a post at the time (AMC: Another Chance To Be Wrong):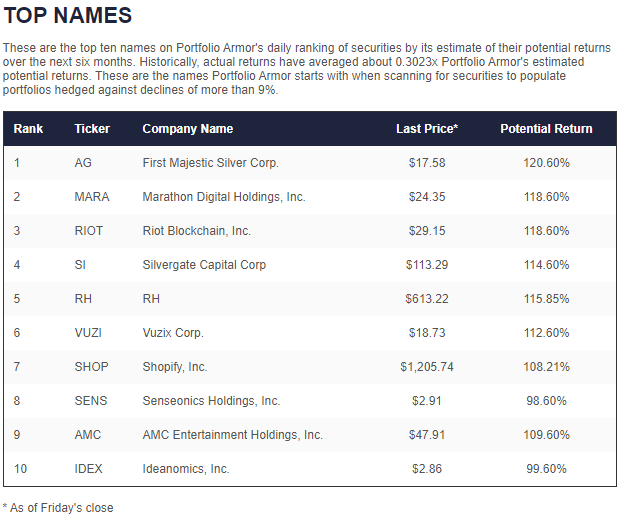 Screen capture via Portfolio Armor on 6/4/2021.
Note that that top names cohort included two Bitcoin miners as well: Marathon Digital Holdings (MARA) and Riot Blockchain (RIOT). As of Tuesday's close, both the Bitcoin miners and AMC were up double digits from June 4th.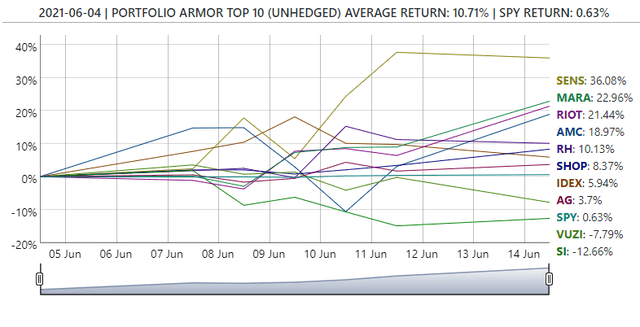 What Didn't Go Up On Monday
What didn't go up on Monday was commodities. In a post on Sunday (Instead Of Gold: Consider Iron), we wrote that crypto and commodities had been two ways investors were playing the post-COVID lockdown inflation this year and that our system had picked up both crypto and commodity names. The iron miner we mentioned in that article, Cleveland-Cliffs (CLF), was down 9.41% on Monday, on no news. As of Monday's close, though, our system was still bullish on it.
Locking In AMC Gains
Since it first hit our top ten this year on April 1st, shares of AMC were up more than 500% as of Monday's close.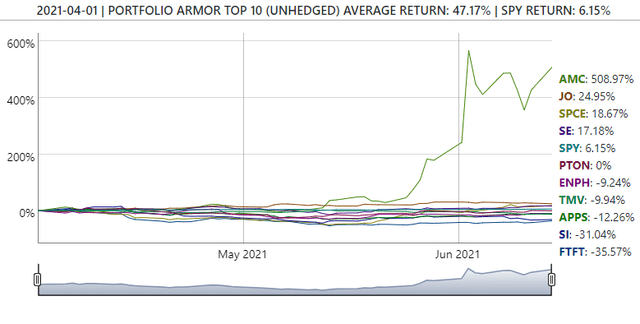 If you've been long the stock over that time frame and haven't hedged it yet, here's an approach to consider.
Capped Upside, Negative Cost
AMC was too expensive to hedge with optimal puts on Monday, but the optimal collar below offered protection against a greater-than-25% drop in 1,000 shares over the next six months, while still giving you a chance at another 100% of possible upside.