Surging Home Prices And Gold – What's The Link?
US home prices are surging, increasingly raising worries about inflation. Could gold follow houses? If so, why?
Home price growth in the US has accelerated even further, reaching a new record. The S&P/Case-Shiller U.S. National Home Price Index rose from 255.3 in May to 260.9 in June, boosting the annual percentage gain from 16.8% to 18.1%, as the chart below shows. That's the largest jump since 1988 when the series began.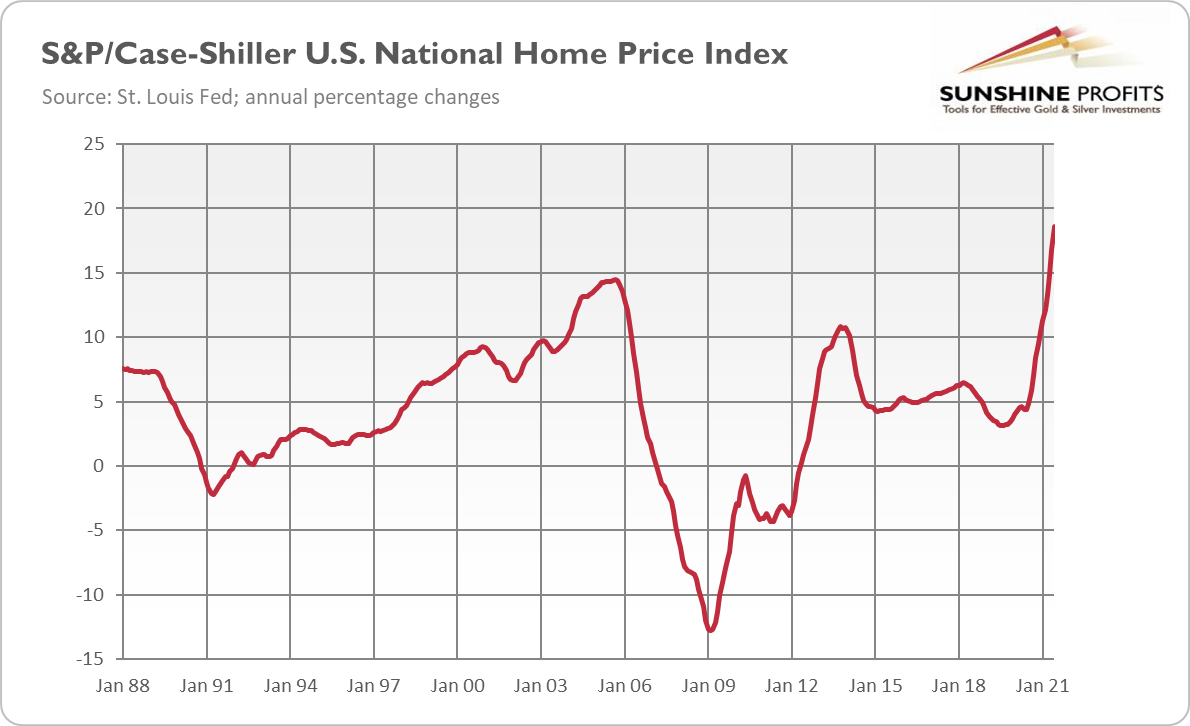 Why is it so important? Well, for two reasons. First, such quick growth in home prices increases the risk of a housing bubble and all related economic problems. Please note that home prices are surging now even faster than in the 2000s, which ended in a financial crisis and the Great Recession.
Second, rallying home prices add to the inflationary pressure. What's important, this year's impressive home inflation hasn't shown up in the CPI yet. It will though, as increases in house prices translate into housing inflation, which lifts consumer price measures. This effect may be substantial, given that shelter represents one-third of the overall CPI and about 40% of the core CPI.
Indeed, the recent research from the Dallas Fed, entitled "Surging House Price Expected to Propel Rent Increases, Push Up Inflation", finds that rising housing prices are usually a leading indicator for rents that are included in the CPI. According to the authors, the correlation between house price growth and rent inflation is the strongest with about an 18-month lag. It means that rent inflation is likely to increase substantially over the next two years, contributing materially to consumer price indexes:
Our forecasting model shows that rent inflation and OER inflation are expected to increase materially in 2022 and 2023. Given their weights in the core PCE price index (which excludes food and energy), rent and OER together are expected to contribute about 0.6 percentage points to 12-month core PCE inflation for 2022 and about 1.2 percentage points for 2023. These forecasts also suggest that rising inflation for rent and OER could push the overall and core PCE inflation rates above 2 percent in 2023, when current supply bottlenecks and labor shortages may have subsided.
Disclaimer: All essays, research and information found on the Website represent the analyses and opinions of Mr. Radomski and Sunshine Profits' associates only. As such, it may prove wrong ...
more