Strong October Jobs Data Stun Gold. For How Long?
The recent employment report points to the continuing strength of the U.S. labor market. The earlier months' upward revisions paint the same picture. Yet the unemployment rate ticked higher - is a recession looming, or not? And what does it all mean for gold?
October Payrolls Better Than Expected, But Unemployment Rate Edges Up
The U.S. created 128,000 jobs in October, following an increase of 219,000 in September (after an upward revision). The nonfarm payrolls came above expectations. The analysts forecasted only 75,000 new jobs, as they thought that the strike at General Motors would be more detrimental for the employment numbers. The gains were widespread, but with a leading role of leisure and hospitality (+61,000), and education and health services (+39,000). Manufacturing again cut jobs, which is another sign of the industrial slowdown. This time the reduction was really deep, as 36,000 people lost jobs in manufacturing. However, the big cut was in part caused by the strike in General Motors.
The surprisingly decent headline number was accompanied by upward revisions in September and August. Counting these, employment gains in these two months combined were 95,000 higher than previously reported. That's a lot! Consequently, the job gains have averaged 176,000 per month over the last three months, and 167,000 so far this year - very respectable but still significantly below the average monthly gain of 223,000 in 2018.
Although the U.S. economy is still creating jobs at a reasonable pace, the unemployment rate ticked up, from 3.5 to 3.6 percent, as the chart below shows. It is still near the 50-year low, but if it rises again soon, we could start to worry.
(Click on image to enlarge)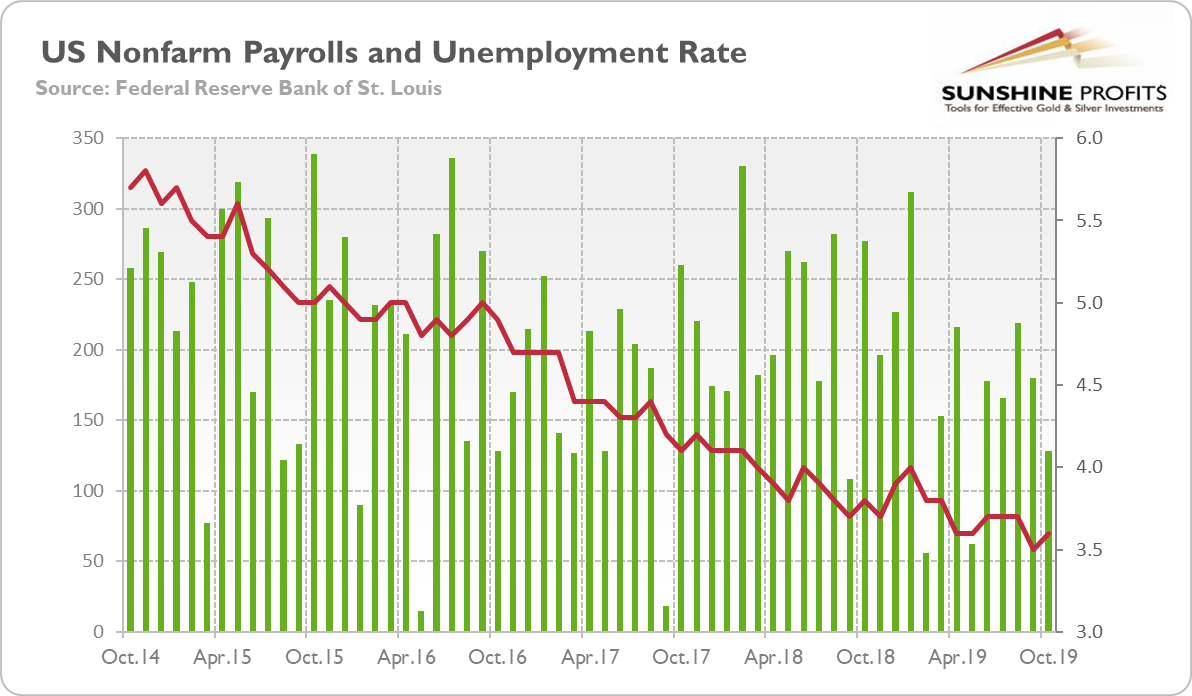 Chart 1: U.S. nonfarm payrolls (red bars, left axis, change in thousands of persons) and the unemployment rate (green line, right axis, %) from October 2014 to October 2019.
Last but not least, the average hourly earnings for all employees on private nonfarm payrolls have increased 3.0 percent over the last twelve months, following a 2.9-percent rise in September. The acceleration in the wage inflation should please the Fed, but it should not significantly impact its stance.
If you enjoyed the above analysis and would you like to know more about the most important macroeconomic factors influencing the U.S. dollar value and the price of gold, we invite you to read the ...
more